India's Afghan consulate attacked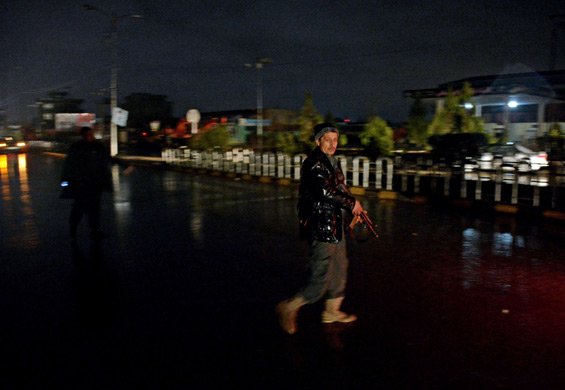 Gunfights raged Monday as Afghan forces battled to flush out militants holed up near the Indian consulate in the northern city of Mazar-i-Sharif, hours after they attempted to storm the diplomatic mission.
No group has so far claimed responsibility for the raid, the latest in a series of assaults on Indian installations in the country.
Up to six assailants mounted the attack from a building close to the consulate in relatively tranquil Balkh province, prompting Afghan forces to cordon off the area.
"Our clearance operation is going on near the consulate," said Munir Farhad, a spokesman for the Balkh provincial governor, told AFP.
"Since it is a residential area, we are proceeding very cautiously to avoid civilian casualties."
An Indian official, who was hunkered down in a secure area within the diplomatic enclave, said all consulate employees were safe and accounted for.
"We are being attacked," the official told AFP by telephone from inside the heavily-guarded compound.
"Fighting is going on," he said soon after the fighting erupted late Sunday evening.
Vikas Swarup, an Indian foreign ministry spokesman, also told AFP that no Indian casualties had been reported so far.
The attack followed a deadly assault over the weekend by suspected Islamist insurgents on an air force base in the northern Indian state of Punjab.
Seven soldiers and six attackers were confirmed killed in the raid on the Pathankot base, which triggered a 14-hour gun battle Saturday and spurred Indian forces to be scrambled again on Sunday.
The assaults threaten to derail Indian Prime Minister Narendra Modi's bold diplomatic outreach to arch-rival Pakistan following his first official visit to Afghanistan.
The violence comes a week after Modi paid a surprise visit to Pakistan, the first by an Indian premier in 11 years.
The visit immediately followed a whirlwind tour of Kabul, where Modi inaugurated an Indian-built parliament complex and gifted three Russian-made helicopters to the Afghan government.
India has been a key supporter of Kabul's post-Taliban government, and analysts have often pointed to the threat of a "proxy war" in Afghanistan between India and Pakistan.
Pakistan - the historic backers of the Taliban -- has long been accused of assisting the insurgents, especially with attacks on Indian targets in Afghanistan.
Pathankot attack
Four more Indian soldiers including a top officer have died of injuries after an attack by suspected militants on an air force base near the Pakistan border, taking the total death toll to 11, officials said Sunday.

Seven soldiers in all including a champion shooter and four attackers were killed at the Pathankot base in the northern state of Punjab, after heavily armed gunmen suspected to be from the Pakistan-based Jaish-e-Mohammed group infiltrated the key station early Saturday.

The assault - a rare targeting of an Indian military installation outside disputed Kashmir - threatens to undermine improving relations with Pakistan.

It came just a week after Indian Prime Minister Narendra Modi paid a surprise visit to Pakistan, the first by an Indian premier in 11 years.

The assault -- a rare targeting of an Indian military installation outside disputed Kashmir -- comes a week after Prime Minister Narendra Modi paid a surprise visit to Pakistan, the first by an Indian premier in 11 years.

The US State Department described the assault as "a heinous" terrorist attack and urged the two rivals to work together to hunt down those responsible.

An Indian army official, who declined to be named, told AFP one of the dead was a lieutenant-colonel in the elite commando unit National Security Guard.

The official said the officer and two other soldiers were injured Sunday when a bomb they were trying to defuse exploded during a search of the site.

Air force spokeswoman Rochelle D'Silva said three of 12 soldiers injured in the battle died in hospital on Sunday.

"Nine are being treated in hospital and are stable," she said.

One of those killed, Subedar Fateh Singh, was a gold medallist at the 1995 Commonwealth Shooting Championships in New Delhi, she said.

Singh was killed at the start of the gunfight, which lasted nearly 14 hours.

The Pathankot air base houses dozens of jet fighters and is important for its strategic location about 50 kilometres (30 miles) from the Pakistan border.

In July three gunmen said to be Pakistan-based Lashkar-e-Taiba militants killed seven people including four policemen in an attack in the Sikh-majority state of Punjab.

Authorities had put Punjab on high alert Friday after five gunmen in army fatigues hijacked a car driven by a senior police officer. It was later found abandoned on a highway connecting Pathankot to Kashmir.

It was unclear if there was a link to Saturday's attack.

Pathankot police chief Kunwar Vijay Partap Singh official said the search would continue until they were satisfied the area was free of militants or munitions.

"We apprehend there might be more bombs at the site. It will take time to clear the area," Singh told AFP. "We are still on alert."
Follow Emirates 24|7 on Google News.