Indian-born US cricket player becomes American citizen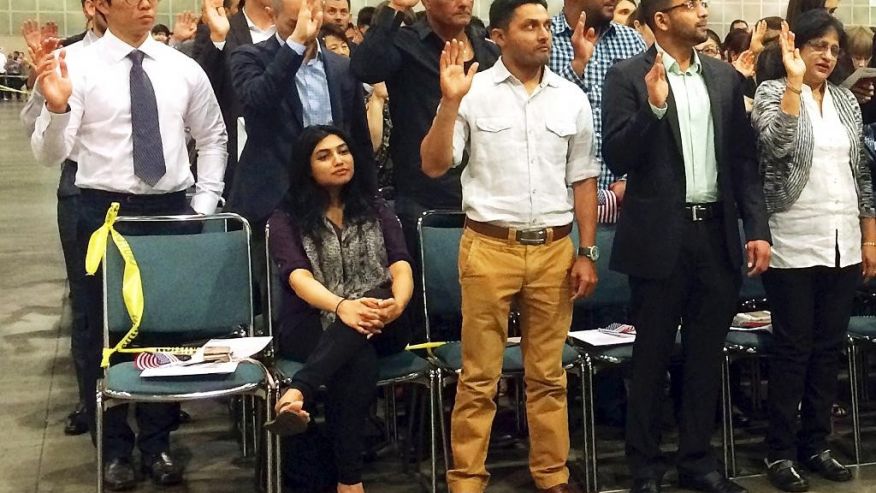 Indian-born U.S. national cricket team player Timil Kaushik Patel became a naturalized American citizen on Tuesday — a move he hopes will help bolster his new country's team.
The 33-year-old California resident took the oath to naturalize at a ceremony in Los Angeles with nearly 3,800 immigrants from more than 100 countries.
Until now, Patel has been occupying one of three slots on the U.S. national team for short-term residents of the country who are not American citizens.
Becoming an American shores up his standing as a player and helps the national team bring on talented new players before a key tournament in Uganda next month, he said.
"It just gives us more options to select players and to be a stronger team," said Patel, the team's vice captain, adding that other teammates are trying to do the same to free up more spots for newcomers.
Patel, who recently signed to play cricket for the St. Lucia Stars along with the U.S. national team, moved to the U.S. from India seven years ago with his family.
He said he played for a junior national team in India but couldn't start playing for the American team until he met a four-year U.S-residency requirement.
Since the team is made up largely of immigrants from India, Pakistan and other countries where cricket is popular, Patel said it's key for those who can naturalize to do so to bring on new players.
Patel, who also has a medical transport business in California, said he sees the sport growing in the United States.
"It is not as crazy as it is in India but it is getting there," Patel said. "We have a lot of plans in place. We're playing more cricket than we used to."
Follow Emirates 24|7 on Google News.