Indian diplomat departs US after servant row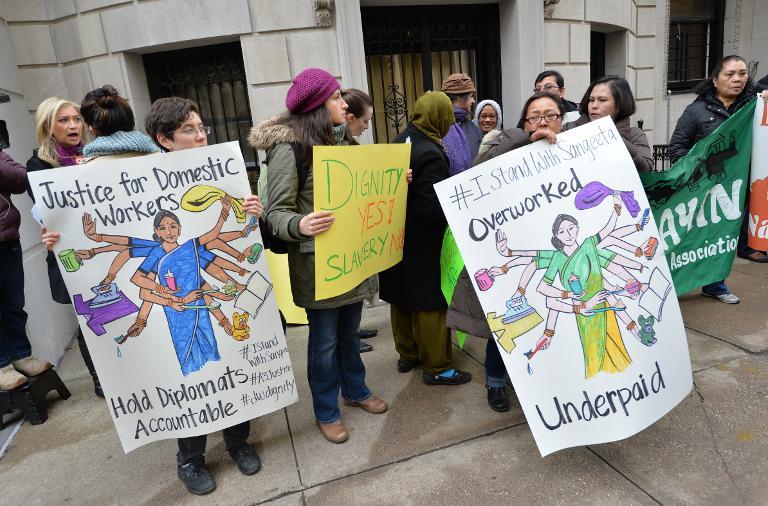 An Indian diplomat at the centre of an intense row with the United States was flying home Friday despite being charged over the treatment of her servant, the Indian foreign ministry said.

After weeks of escalating tensions between the usually friendly countries, the US and India reached an agreement under which Devyani Khobragade leaves the country but still faces charges if she returns.

"Devyani Khobragade given G1 visa by USA according her full diplomatic immunity. India transfers her back. She is now flying home," Indian foreign ministry spokesman Syed Akbaruddin said in a tweet.

G1 visas are issued to foreign government representatives to work in international organisations in the US.

In a separate statement, the foreign ministry said India had rejected a request from the US to waive Khobragade's diplomatic immunity, prompting her to depart the country and leaving her children behind.

"The US Government requested the Government of India to waive the immunity of Counsellor Khobragade," said the statement.

The government "declined to do so and transferred Counsellor Khobragade to the Ministry of External Affairs in New Delhi."

The indictment against Khobograde accused her of lying on the servant's visa application and paying her less than half the statutory minimum wage.

Khobograde's arrest last month came when she was dropping her children off at school in New York, where she was serving as deputy consul general.

Doubts over whether that post accorded her diplomatic status led India to work feverishly behind the scenes to ensure that she avoided being dragged before the courts.

Foreign Minister Salman Khurshid had vowed to "bring her home" at any price.

Khobragade's arrest on December 12 spurred outrage in India, especially when it was revealed she was strip-searched and cavity-searched.
Follow Emirates 24|7 on Google News.