Indian slammed to ground by US cops; to sue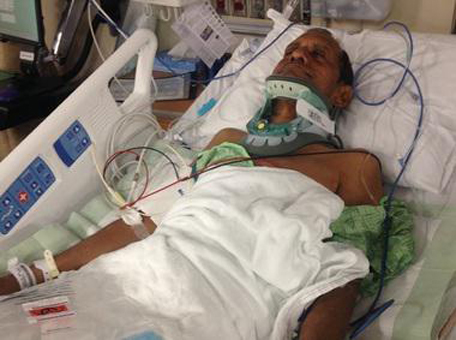 A man from India who was slammed to the ground by a police officer had been singled out by police after a caller said a "skinny black guy" with a toboggan hat was walking in the neighborhood and peering into garages, recordings show.

The man, Sureshbhai Patel, 57, doesn't speak English and was slammed to the ground face-first by an officer when he didn't respond to commands. But he had committed no crime, the Madison police chief said.

Officer Eric Parker was arrested and is being fired. He has not commented publicly, and court records were not available Friday to show whether he has a lawyer.

Patel filed a lawsuit Thursday over the Feb. 6 incident in Madison, where he was visiting his son's family. His injuries include partial paralysis but he hopes for a full recovery, according to the lawsuit and Patel's lawyer. The lawsuit says Patel's civil rights were violated. It seeks an unspecified amount of money.

The Indian government is taking the incident seriously and is "extremely disturbed" by the treatment of Patel, a spokesman said Friday.

"This is a matter of concern for us, and India and the U.S. as open pluralist societies need to address these issues and find ways in a mature manner so that these are aberrations and are not the norm," said Syed Akbaruddin, India's foreign ministry spokesman.

Embassy of India spokesman Sridharan Madhusudhanan said in an emailed statement that the office has been in touch with Patel's family, the doctors who are caring for him and the US Embassy in Delhi.

"Our understanding of the situation is that while there has been some progress, the medical condition of Mr. Sureshbhai Patel is still a matter of concern," Madhusudhanan said.

The incident began when a man called police complaining that an unfamiliar man was wandering about his neighborhood and peering toward garages. He said the man had been seen wandering the day before as well.

"He's a skinny black guy. He's got a toboggan on," said the caller, who isn't identified.

Police arrived in patrol cars within minutes and found Patel walking in his son's neighborhood in Madison, a Huntsville suburb of about 46,000 people near high-tech businesses, the University of Alabama-Huntsville, and NASA's Marshall Space Flight Center.

Video shot from inside one of the cruisers shows two officers walking toward the man on the sidewalk and attempting to talk to him.

"What's going on, sir?" asks one of the officers. "You're what? India?"

Police pepper the man with questions about what he is doing and where he is going, but answers are inaudible and someone on the recording is heard saying, "no English." Patel appears to try to walk away and one of the officers warns: "Do not jerk away from me again."

One of the officers, neither of whom is identified, restrains Patel by pulling his arms behind his back and then slams him face-first into the ground less than 90 seconds after the confrontation began.

"He don't speak a lick of English," one of the officers says as another officer arrives.

Madison Police Chief Larry Muncey said the officer's actions weren't justified.

"I found that Officer Eric Parker's actions did not meet the high standards and expectations of the Madison City Police Department," Muncey said.

Chirag Patel has told local news media that his father has only been to America once before and is visiting to help care for his grandson.

Attorney Hank Sherrod says the man was stopped and hurt at least partly because of his brown skin.

"I think skin color made him more likely to be a victim of police power," Sherrod said Friday.

As word of Patel's treatment and injuries spread, a site established on gofundme.com to help cover medical and other expenses generated more than $104,000 in donations by Friday night. Sherrod said Patel has no insurance.
Follow Emirates 24|7 on Google News.