Indian state elections to begin next month will test PM Modi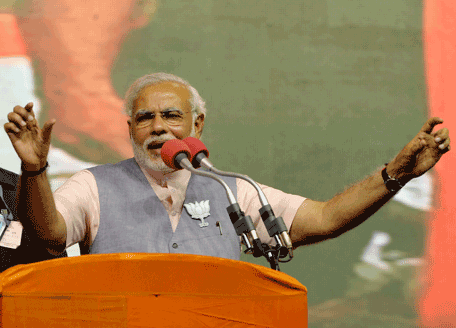 India's election commission on Wednesday scheduled five state polls for the next two months that will test support for Prime Minister Narendra Modi's gamble to abolish high-denomination banknotes.
Voting in Uttar Pradesh, the most populous state that is home to 200 million people, will begin on Feb. 11 and finish on March 8, chief election commissioner Nasim Zaidi told reporters.
Polls will also be conducted in the states of Goa, Manipur, Punjab and Uttarakhand in February and March, with votes in all five elections tallied on March 11, Zaidi said.
Modi has invested huge political capital in winning Uttar Pradesh, holding a series of rallies in the state and turning his demonetisation drive into the centrepiece of the election.
On Nov. 8, Modi made the radical move to withdraw all 500 and 1,000 rupee bills, accounting for 86 percent of currency in circulation, to unearth untaxed or illicit cash held in the "shadow economy" and away from the taxman.
The move has brought India's cash economy to a virtual standstill and impacted the lives of millions of people. But many Indians remain supportive of the policy framed as a fight against corruption and tax evaders.
Modi's Bharatiya Janata Party (BJP) or its allies rule in 14 of India's 29 states after expanding their power base since Modi's election victory in 2014. The opposition Congress and regional parties control the remaining states.
State elections, held every five years, are vital for the BJP to be able to gain control of the upper house of parliament, where members are indirectly elected by state legislatures and opposition parties have held up the passage of some bills.
More than 160 million people are eligible to vote in the five states headed to the polls, with Goa and Punjab currently ruled by Modi's Bharatiya Janata Party (BJP) or its allies.
Follow Emirates 24|7 on Google News.