Indian woman 'forced to marry Pakistani at gunpoint' returns home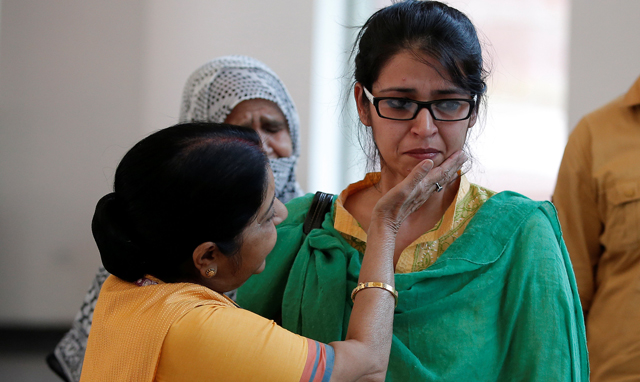 An Indian woman who says she was drugged, kidnapped and forced to marry a Pakistani man at gunpoint returned to India on Thursday amid much media fanfare and as tensions between the two South Asian neighbours rise.
Uzma, whose family name cannot be given for legal reasons, said she met the Pakistani national in Malaysia and decided to travel to Pakistan on May 1 after he invited her to visit.
But when she arrived she said the man forced her to sign a marriage contract at gunpoint and that she suffered physical and emotional violence for five days until she managed to go to the Indian High Commision in Islamabad where she was given refuge.
"I went to Pakistan just for a visit. But the situation changed so quickly that I didn't even realise when (he) gave me sleeping pills. It was a kidnapping," Uzma, who is in her twenties, told a news conference.
"He tortured me in every way," said Uzma, who is from New Delhi.
Uzma stayed in a village in the northwest district of Buner and said other foreign women duped into forced marriage by Pakistani men working in Malaysia were also there. She did not provide any further details.
According to local media reports, the man denies the allegations.
Indian High Commission officials said they filed a petition in court seeking permission for Uzma to return to India. The court granted permission on Wednesday.
The incident comes amid increasing tension between India and Pakistan who have in recent weeks been trading accusations over cease-fire violations along their disputed border.
Both countries have also been at odds over an Indian national, Kulbhushan Jadhav, who Pakistan has sentenced to death on charges of spying. India has taken the case to the International Court of Justice.
India's Foreign Minister Sushma Swaraj, who has been leading efforts to ensure the woman's safe return to India over the last two weeks, welcomed her home and expressed thanks to Pakistan for assisting the Indian High Commission.
"I want to say this, regardless of whatever the relationship is between India and Pakistan today, if Uzma is here today, it is because of the help given by Pakistan Ministry of Foreign Affairs," Sushma said at the news conference.
Follow Emirates 24|7 on Google News.