'Innovate' to create future: Mona Al Marri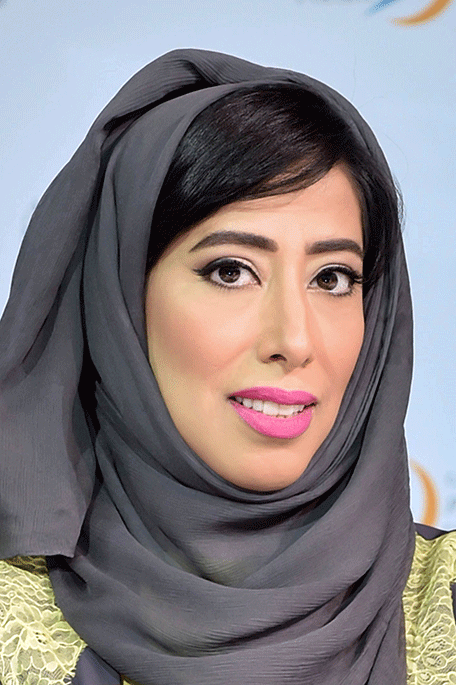 Mona Ghanem Al Marri, Director-General of Dubai Government's Media Office and Chairperson of the Board of the Dubai Women's Establishment (DWE), said that the motto of Global Women's Forum in Dubai - 'Let's Innovate' ('Le Nabtaker' in Arabic) - reflects the involvement of women in the world in general, and the UAE in particular, in the progress of human civilisation.
She added, in an interview with 'Al Bayan' newspaper, that the forum will show how women, society and the economy can benefit from the development of innovative ideas.
"We should be looking ahead to the future and participate in the creation of it through submitting ideas that change our lives," she said.
Al Marri told 'Al Bayan' that the forum provides a unique platform for discussion on the true meaning of innovation in very fast and changeable world to inspire future generations of women to participate actively in their roles.
She pointed out that this is the first time the forum is being held in the Middle East and North Africa (Mena) and will have significant local, regional and global impact, highlighting the factors that allow the empowering of women and ensuring their participation in the development processes.
Women's Forum opens today
Thought-leaders and decision-makers from both the private and public sectors around the world have arrived in Dubai to advance the global dialogue on women's participation, workplace diversity and gender balance over the next two days at Global Women's Forum Dubai (GWFD).
The event is taking place at the Madinat Jumeirah in Dubai from February 23-24, under the patronage of His Highness Sheikh Mohammad bin Rashid Al-Maktoum, Vice-President and Prime Minister of UAE and Ruler of Dubai, and led by Sheikha Manal bint Mohammed bin Rashid Al Maktoum, President of the UAE Gender Balance Council, President of Dubai Women Establishment and wife of Sheikh Mansour bin Zayed Al Nahyan, Deputy Prime Minister and Minister of Presidential Affairs, UAE. The Global Women's Forum Dubai is organised by Dubai Women Establishment in cooperation with the Women's Forum for the Economy and Society.
The event unofficially kicked-off on Monday with a pre-programme of activities organised for an official delegation of business and government leaders from Scandinavia and the Global Women's Forum Dubai Rising Talents – seven talented women who have demonstrated remarkable skills and courage in their professional and personal lives, and who will be participating in a variety of activities and sessions during Global Women's Forum Dubai. As part of the pre-programme of activities, the Rising Talents engaged in an orientation workshop in Mina A'Salam Hotel, Dubai.
Each year the Women's Forum Global Meeting in Deauville, France, welcomes a Special Delegation of remarkable women from a specific country or region. At Global Women's Forum Dubai, participants will have the opportunity to meet and engage with members of the Scandinavian Delegation – thought-leaders from business, politics, sciences, social entrepreneurship, academia, the arts, media and philanthropy – while gaining perspective on what makes the five Scandinavian countries stand out as global role models for removing gender-based disparities. The delegation is being led by Mette Laursen, CEO and Founder of LinKS, a leading educational network for top influencers in the Nordics.
The pre-programme activities for the Scandinavian delegation included a private meeting with Huda Al Hashimi, Executive Director of the Mohammed bin Rashid Centre for Government Innovation on the UAE government strategy, followed by a lunch reception at Dubai Electricity and Water Authority's (Dewa) headquarters to learn about Dewa's efforts to drive innovation and creativity in energy and water, and an official visit to The UAE Women's Museum. The pre-programme activities closed with a dinner reception for the Scandinavian delegation and Rising Talents participants, hosted by FGB.
Groundbreaking event
Sheikha Manal said: "We in Dubai are honoured to host the largest gathering focused on encouraging women's empowerment and advancement, and their participation in society, to be held in the Mena region. In many ways, the Global Women's Forum Dubai is a groundbreaking event. Aside from creating a platform to advance the global dialogue on women's participation, diversity and gender balance, I see the Forum playing a role in supporting the closer integration of women into the region's development process. In particular, this Forum will help achieve this by introducing pioneering Arab women to a global audience. By raising the profile of their work and their contributions, this Forum will significantly help in breaking down stereotypes of women in the region."
She continued: "Over the next two days, leading thinkers and world-renowned speakers from businesses, governments and civil society across the world, and all generations, will initiate a global exchange of ideas on a wide range of issues related to gender diversity, female engagement and women's contribution to societies. I am confident these interactions will bring many breakthrough ideas and practical solutions to pressing issues to light. I also believe these discussions will have a far-reaching impact, inspiring and empowering future generations of women to make more positive contributions to social and economic development."
Global Women's Forum Dubai will feature keynote speeches by Queen Rania Al Abdullah of the Hashemite Kingdom of Jordan, wife of King Abdullah II Ibn Al Hussein of Jordan; Dr. Amal Al Qubaisi, President of the Federal National Council; and Sheikh Abdullah bin Zayed Al Nahyan, UAE Minister of Foreign Affairs and International Cooperation. Global Women's Forum Dubai will also feature Christine Lagarde, Managing Director of the International Monetary Fund; Michelle Bachelet, President of the Republic of Chile; Dr. Ameenah Gurib-Fakim, President of the Republic of Mauritius; Sheikha Lubna bint Khalid Al Qasimi, UAE Minister of State for Tolerance; Reem Ibrahim Al Hashimi, UAE Minister of State for International Cooperation; Emma Bonino, former Italian Minister of Foreign Affairs, Margrethe Vestager, EU Commissioner for Competition, and cardiac surgeon, Dr. Oz, as well as prominent figures from the public and private sector around the world.
Global Women's Forum Dubai will also feature a special address by Shamma Al Mazrui, UAE Minister of State for Youth Affairs and the youngest UAE minister in the history of the nation. She, aged 22, will share the message and vision of the next generation of UAE leaders, in her first ever speech in her new role.
Five main plenary sessions
Global Women's Forum Dubai will feature five main plenary sessions, exploring a range of topics, including breakthrough moments in work and life; the place of women and innovative thinking in tomorrow's cities; the impact of longer life expectancies, looking beyond the stereotypes of women in the Middle East; and how to create lasting social impact.
Mona Al Marri, Chairperson of the Dubai Women Establishment, said: "Hosting the Forum in the UAE reflects the international community's appreciation for the country's efforts to advance the empowerment of women, which has enabled them to make strong contributions to national development. The Global Women's Forum Dubai has created a space where thought leaders and trailblazers in the field of women's advancement can share ideas in an empowering, connected and inspiring environment. The Forum features a diverse range of topics that have been carefully selected to ensure a rich discussion on how women can contribute to the development of our societies. I am confident that the insights, ideas and experiences that the speakers bring will help ensure a highly successful Forum."
The Discovery - the signature creativity space at the heart of Women's Forum for the Economy & Society meetings, provides a unique opportunity for delegates to meet, share, learn and be inspired through interactive sessions and workshops, and will build on the topics explored throughout the main plenary sessions of the Forum, through 12 creative hubs and corners. These include Happiness, Women and Science, Maison Guerlain, Entrepreneurship, Art and Culture, Social Impact, Energy, Women on Boards, Rising Talents, Women in Media, CEO Champions and the Scandinavian Delegation.
Interactive workshops
Sessions range from interactive workshops with the Emirates Mars Mission Team, to workshops and talks exploring the art and process behind the creation of a bespoke perfume, 'Creating Your Dream Team', healthy solutions for eating and living well and the future of dreaming and the creative brain, to initiatives that aim to turn people's kinetic and mechanical energy from exercise into electricity, amongst many more.
Expected to attract more than 2,000 participants and 100 speakers and international delegates, Global Women's Forum Dubai will bring together leaders from around the world – women and men – with the aim of considering new perspectives for today and tomorrow; creating a powerful, global network capable of boosting the influence of women throughout the world; conceiving innovative and concrete action plans to encourage women's contribution to society; and promoting diversity in the business world.
Building on the theme "Let's Innovate!", Global Women's Forum Dubai will explore what innovation really means in today's technology-focused era. The event will address women's sustainable role in this revolutionary world, with the aim of strengthening the influence of women globally, maximising their contribution to socio-economic development, and inspiring future generations of women to actively participate in nation-building. Global Women's Forum Dubai will build on the theme of innovation through five key pillars, Achieving, Creating, Giving, Energising and Sustaining, addressing the sustainable role of women in innovation and building long-lasting networks designed to empower societies through women's participation.
CEO Champions, a Women's Forum for the Economy & Society initiative launched in 2010 to drive progress and accountability for women's advancement in the private and public sectors, is also part of Global Women's Forum Dubai, in addition to other key Women's Forum initiatives such as Rising Talents, Women in Media, and the Cartier Women's Initiative Awards.
Global Women's Forum Dubai is supported by local, regional and international organisations, including: Main Partner, Dubai Electricity and Water Authority (Dewa); Platinum Partners: NMC, UAE Exchange, and Travel Ex; Strategic Partners, Emirates Integrated Telecommunications Company Du and Dubai Holding; Leading Partner, Cartier Women's Initiative Awards; Strategic Media Partner, Dubai Media Incorporated; Official Carrier, Emirates Airline; Exclusive Social Media Partner, Twitter; International Media Partners, CNN, International New York Times, France Media Monde and France Culture; Media Partners, Sky News Arabia and CNBC Arabia, Radio Partner, Arabian Radio Network; Official Car Partner, Audi (Al Nabooda Automobiles); Partner of the Rising Talents Initiative, FGB; Partner of CEO Champions, Mckinsey & Company; Support Partners, Thomson Reuters Foundation, The Dubai Mall, Emirates Transport and Uber; Official Destination Partner, Department of Tourism and Commerce Marketing (DTCM) ; Outdoor Advertising Partner, Hills Advertising; Discovery Partners, Guerlain and Airbus Group; Technology Partner, Lenovo, and Logistics Partner, Aramex.
Follow Emirates 24|7 on Google News.