Japan PM rushes home to lead hostage response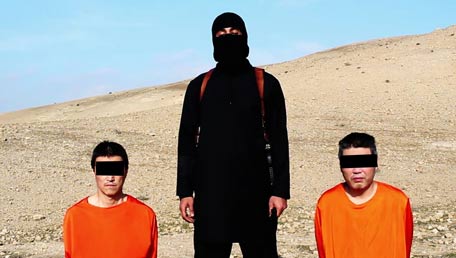 Japanese Prime Minister Shinzo Abe was rushing home from the Middle East Wednesday to take charge of Tokyo's response after Daesh threatened to kill two nationals unless he pays a $200 million ransom.
A defiant Abe vowed he would not bow to "terrorism" as Japan was thrust abruptly into the conflict gripping Syria and Iraq, where rebels have seized control of large areas.
"I strongly demand that they not be harmed and that they be immediately released," he told a news conference in Jerusalem.
"The international community will not give in to terrorism and we have to make sure that we work together."
Daesh has murdered five Western hostages since August last year, but this is the first time the group has threatened Japanese captives.
In footage posted on their websites, a black-clad militant brandishing a knife addresses the camera in English, standing between two hostages wearing orange jumpsuits.
"You now have 72 hours to pressure your government into making a wise decision by paying the $200 million to save the lives of your citizens," he says.
The man says that the ransom sum is equal to the aid that Abe pledged in support of the fight against Daesh.
Japan has repeatedly insisted it has offered non-military assistance for countries affected by the IS group's bloody expansion in Iraq and Syria, which has spurred an exodus of refugees to neighbouring countries.
Supportive voices came from around the world, with US Secretary of State John Kerry telling his Japanese counterpart Fumio Kishida that Washington stood firmly behind Tokyo.
Japan, a constitutionally pacifist country has steered clear of the armed entanglements of the US, Britain and other Western nations in the Middle East.
The ensnarement of two of its citizens in the Daesh's bloody ideological battle is deeply shocking to Japan, and there is likely to be considerable domestic pressure on Abe to try to negotiate their release.
Video authenticity
The video of a militant with a British accent brandishing a knife over the heads of journalist Kenji Goto and self-employed military contractor Haruna Yukawa looped on television Tuesday as the news broke.
Wednesday's newspapers gave it blanket coverage, while talk shows and news programmes were dominated by the issue, with much speculation on the authenticity of the video.
Film editor Genta Tamaki noted apparent discrepancies in the shadows cast by the hostages, which he said could indicate images of the two men had been inserted into the desert footage.
"In principle, these shadows do not look as one might expect in sunlight," he was quoted as saying.
This might occur if filming was done indoors using several lights and combined with the background later, he said, although he added it was not possible to be certain.
Outlets also noted clothes worn by Yukawa moved more than those Goto was wearing, and neither man flinched when their captor waved his knife near them.
Chief Cabinet Secretary Yoshihide Suga, said experts had examined the footage. He did not address the speculation, but said the Japanese government was assured of the identity of the men.
National broadcaster NHK said it had spoken to someone claiming to be in charge of "public relations" for the militant group.
"We don't need money," they quoted the person as saying.
"Daesh is spending more than this amount ($200m) in one day. It's not an economic war but a spiritual war," the person said, repeatedly adding the group was confident "your government will pay the money".
The release of a video on the day Abe was in Jerusalem and due to give a major press conference is a grim reminder of the well-oiled PR machine of Daesh,
It follows a pattern established last year with the killings of US journalists James Foley and Steven Sotloff, American aid worker Peter Kassig and British aid workers Alan Henning and David Haines. All of them were all beheaded.
The man who appeared in the video threatening the Japanese hostages spoke with a very similar southern English accent to the militant who appeared in the footage posted of the executions of the Britons and Americans.
Memories in Japan are still fresh of the 2013 Algerian gas plant crisis, in which 10 Japanese lost their lives at the hands of militants.
The last Japanese citizen believed to have been beheaded by Daesh was tourist Shosei Koda, 24, who was killed in Iraq in 2004 after Tokyo ignored demands to pull out troops engaged in reconstruction work.
Follow Emirates 24|7 on Google News.