JLT Icon Tower 1 fire: Evacuation drama with 6-day-old baby, flat-mates fast asleep...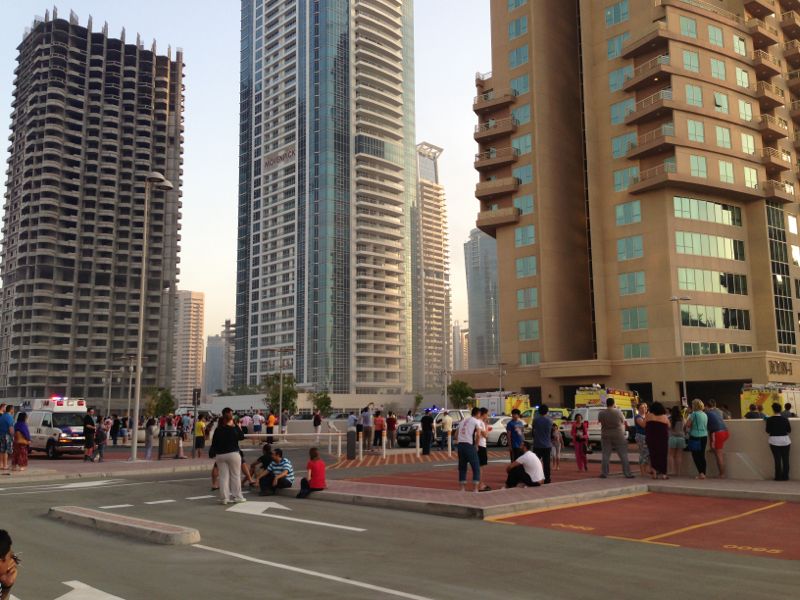 A 6-day-old baby was admitted to hospital after the child and his family evacuated the Icon Tower 1 in Jumeirah Lakes Towers on Friday early morning, following a fire.
Soon after the fire broke out in the central room of the tower at around 5.30am, residents on all floors took the stairs to get out of the building.
Although there was no exposure to fire, evacuees were met by a layer of smoke on the first and second floor.
Tahira Naseem (31), a Pakistani resident on the 32nd floor, relates events and the fear she felt for her 6-year old cousin.
The baby is believed to have been badly affected by the smoke and as soon as the child exited the building he was put on oxygen in an ambulance waiting in front of the building.
Tahira says: "I could not sleep that night.
"Around 6 in the morning a fire alarm went off, but that happens frequently so I did not think there was a fire.
"But when the AC went off, I realised there was something wrong. I wanted to go to the reception to inquire, but the elevator had stopped working. So I took the stairs.
"While I was walking down from the 32nd floor, I met other people, who told me that there was a fire.
"My brother, his wife and their newborn baby live on the 31st floor. I wanted to warn them, but I did not have credits on my phone.
"While I was on my way, my brother called. He was on his way down. When a security guard saw my brother carrying the young baby he took him and started running down. He took the baby out of the building.
"Then I walked upstairs, because my friend who is staying with me on the 32st floor was still asleep.
"I woke her up, and knocked on all the doors on my floor. By that time security guards had started to do the same.
By the time I was on my way back down I could barely move my legs."
A resident of the 37th floor would not have evacuated at all if it was not for his flat-mate who had woke him up.
"I slept through the fire alarm. My flat-mate woke me up; when I opened my eyes I realised she was wearing a backpack. She told me we have to get out of the building.
"I was very sleepy, so it took me a while to realise what was going on. I remember a father running back up the stairs to look for his child. Everybody was running. It was a scary experience," says the Spanish-Colombian Pedro (31), a resident of the tower.
According to eye witnesses, several residents were received by ambulance staff because they had inhaled smoke on their way out of the building.
What seems a relatively contained fire, caused great distress for the residents of the building, mostly because they panicked on their way down through the fire route.
Of great frustration to the residents is the fact that a similar accident occurred in the same building last year.
"This scares me the most," says Pedro. "I did not live here last year, but after hearing this I do not feel safe in this building anymore. If something like this can happen twice in the same building, something must be wrong."
Burnt before
Navid Akhtar, who represents the owners association maintenance company of Icon Tower, confirmed that an accident took place last year, but added that the cases were completely different.
"At this point we still have to see what caused this fire, but we can say it broke out in the mechanical area, while the accident last year took place in a different area of the building.
"We do carry out regular inspections and maintenance work, but this accident was unforeseen," he said.
At 11am residents were allowed back into their apartments.
Dubai Civil Defence
"A fire was reported to us at 5.38 that morning," confirms Abu Nasser, Communication Officer of Dubai Civil Defense. "The fire took place in the central room where an electrical cable had caught flame, but the smoke was spread to the first and second floor."
According to Civil Defense, the fire was extinguished in 12 minutes, after which firemen started to clean the building from smoke. No injuries were reported, said Abu Nasser.
Apartments on the floors from the 18th to the 32nd floor are currently without electricity, and alternative accommodation is required.
For the full story on what is next for residents of Icon Tower 1, click here.
MUST READ:
Follow Emirates 24|7 on Google News.