Kenya bus crash kills at least 50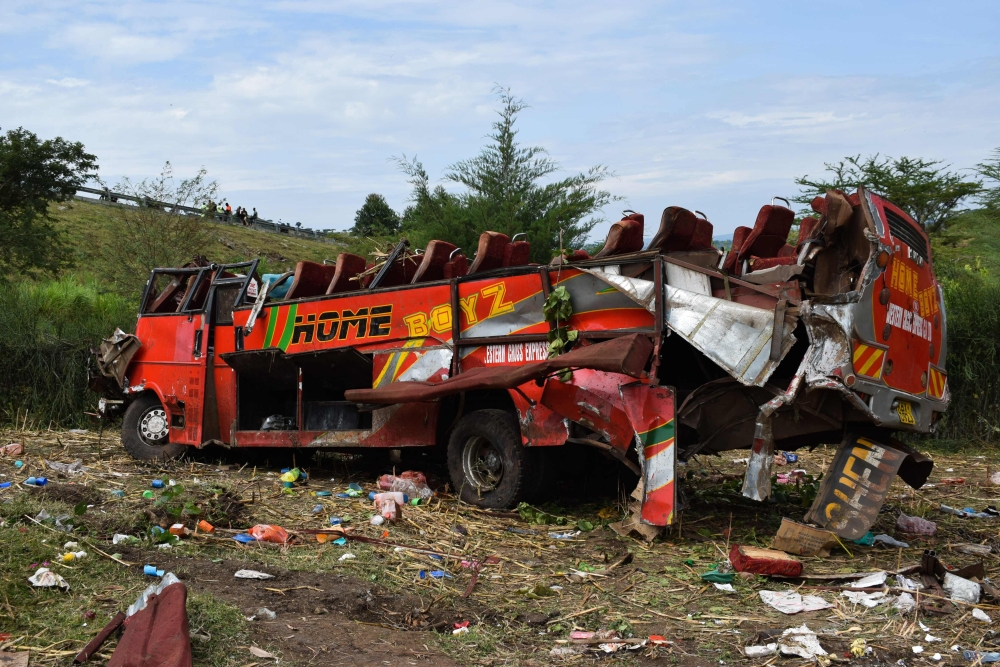 At least 50 people were killed when the bus they were travelling in overturned and its entire roof was ripped off in an accident in western Kenya early Wednesday, police said.
The bus was travelling from Nairobi to the western town of Kakamega, police said, and footage from the scene showed the vehicle lying on its side with the seats and mangled bits of metal exposed to the air.
The faded red bus, emblazoned with the name "Home Boyz", was later righted. The torn-off roof could be seen lying at a distance.
"It is unfortunate that we have lost 51 people," Kenya's police chief Joseph Boinnet told Capital FM radio.
However James Mugera, the Kericho County Police Commander, said there were 50 fatalities: "Those who perished include 31 male passengers, 12 women and seven children. There are about 10 others who have been rushed to various hospitals with serious injuries."
Officers said the bus had a capacity of 52 passengers.
The bus was reportedly descending a steep hill when it hit a guard rail before plunging down a few metres.
Dozens of people milled around the accident site and goods were strewn over a large area, footage showed.
President Uhuru Kenyatta called for an investigation into the tragedy.
"My heartfelt condolences to the families of fellow Kenyans who lost their lives in a tragic road accident at Fort Ternan in Kericho County this morning and wish those in hospital quick recovery," he wrote on Twitter.
"I would like to remind drivers to always exercise caution to avoid such catastrophic incidents."
Official statistics show that around 3,000 people die annually in road accidents in Kenya, but the World Health Organization estimates the figure could be as high as 12,000.
In December 2017, 36 people died in a head-on collision between a bus and a lorry.
In 2016 more than 40 people died when an out-of-control fuel tanker ploughed into vehicles and then exploded on a busy highway.
Follow Emirates 24|7 on Google News.