Kidnapped at 13: Nepal's Dalit child brides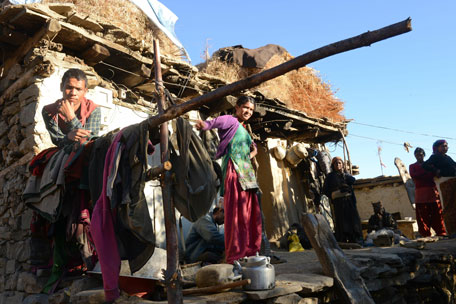 On a freezing night three years ago, 13-year-old Susmita Kami sneaked out of her husband's house and didn't stop running until she reached her parent's doorstep in Nepal's remote northwest.
Her escape from a forced marriage - a tradition many teenage girls from the Himalayan nation's Dalit community are expected to uphold -- was soon under threat.

But Susmita's parents resisted demands from her in-laws to send her back, deciding to stand by their pleading daughter who desperately wanted a better life.

"I told them I never wanted to get married and I wasn't going back. I ran away because I wanted to stay in school," Susmita, now 16, told AFP.

Although Nepal banned child marriage in 1963, four out of ten girls are married before they turn 18, according to Unicef.

The figures are even higher among the country's impoverished Dalits or "untouchables" who live in remote communities shunned by the mainstream, meaning their customs go largely unchallenged.

Three out of four Dalits marry during their teens or earlier, according to a 2012 survey by Plan International, Save the Children and World Vision. Girls are often abducted by prospective grooms in a cultural practise few families object to.

Susmita was kidnapped while collecting firewood, and forcibly married four days later - an ordeal also endured by her mother, Jadane Kami, when she was a teenager.

"This is our culture. People worry that otherwise our girls will elope or marry into other communities," said Kami, who initially did not oppose her daughter's forced marriage.

The tradition has survived a ten-year civil war, the end of royal rule and Nepal's transition to democratic politics.

Segregated settlements - In Simikot, headquarters of remote Humla district that borders the Tibetan plateau, Dalits live in segregated settlements.

Their hay-topped homes stand in stark contrast to the shiny tin roofs of houses belonging to higher-castes.

"Dalits have struggled due to their low caste status. For centuries, they were not allowed to mix with others at all," Humla's deputy district chief, Bam Bahadur KC, told AFP.

"Naturally, this has left them very isolated, they are still following old customs and change has been slow to come," he said.

Dalit families also labour under huge financial strain, officials say, with children pushed to leave school and start work while their parents eke out a living as subsistence farmers.

The oldest of seven children, Dana Sunar, now 18, had been the last Dalit girl in her class.
While the others had dropped out, Sunar dreamed of graduating and becoming a schoolteacher.

But she was taken at 14 and forced to marry an 18-year-old farmer earning $50 a month.

"I cried and cried. It was like a door had closed before me, any dreams I had were gone," Sunar said.

Her in-laws pressured her to drop out of school and focus on farming and housework. Now a mother to six-month-old twins, Sunar described her new life as "a daily struggle".

"We never have enough money - sometimes we eat only once a day. I don't know how I am going to bring up these children," she said.

'Terrible custom' - Experts say the consequences of marrying so young are devastating.

"Adolescents have children early, they are unable to focus on education...and both mothers and babies end up with health problems," said Kunga Sanduk Lama, a government official who works on child rights.

Laws are ineffective, he said, citing a lack of evidence - documents, photos or witness testimonies - needed to prove a marriage occurred so punitive action can be pursued.

Instead, campaigners focus on raising awareness through radio shows, street plays and after -school clubs for children.

Those who have fallen victim to the tradition need no convincing. Susmita, now in ninth grade, said she wanted to see an end to "this terrible custom".

Her father, a cobbler who earns $80 a month, said sending her to school was a struggle. The cost of her uniform alone is a staggering $45. But for now, her family will do whatever they can to keep her in class.

"I want my daughter to have a chance to stand on her own feet," her mother said.

"I think she did the right thing by running away. She is more brave than me - I never felt like I had a choice in the matter."
Follow Emirates 24|7 on Google News.