Kim half-brother pleaded for his life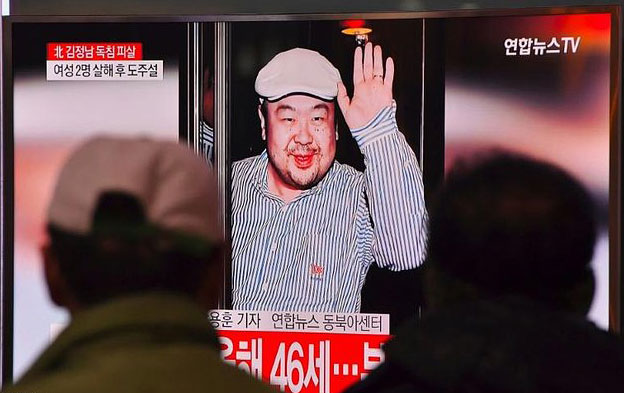 The half-brother of North Korean leader Kim Jong-Un, who has been murdered in Malaysia, pleaded for his life after a failed assassination bid in 2012, lawmakers briefed by South Korea's spy chief said Wednesday.
Kim Jong-Nam died after reportedly being attacked by two women believed to be North Korean agents at Kuala Lumpur International Airport on Monday.
Jong-Nam, the eldest son of the late former leader Kim Jong-Il, was once seen as heir apparent but fell out of favour following an embarrassing botched bid in 2001 to enter Japan on a forged passport and visit Disneyland.
He had since lived in virtual exile, mainly in the Chinese territory of Macau, while Jong-Un took over the isolated and nuclear-armed state after the death of his father in December 2011.
The North in 2012 tried to assassinate Jong-Nam — known to be a supporter of reform in Pyongyang — Seoul lawmakers said, following a closed-door briefing by the chief of the National Intelligence Service, Lee Byung-Ho.
"According to (Lee)... there was one bid in 2012, and Jong-Nam in April 2012 sent a letter to Jong-Un saying 'Please spare me and my family'," Kim Byung-Kee, a member of the parliamentary intelligence committee, told reporters.
"It also said 'We have nowhere to go... we know that the only way to escape is suicide'," he said, adding Jong-Nam had little political support in the North and posed little threat to Jong-Un.
The assassination, if confirmed to have been the North's work, is more an indication of Jong-Un's "paranoid personality" than a calculated move to remove a political threat, the legislator quoted the spy chief as saying.
Jong-Nam was the eldest son of Kim Jong-Il with his first wife, and in the deeply patriarchal North the first son is seen as the official heir of the family. The country's founding father Kim Il-Sung passed on the helm to his first son, Kim Jong-Il, on his death in 1994.
But the succession instead went to Jong-Un, who was born to Jong-Il's third wife — a potential taint in his legitimacy as leader.
Jong-Nam's family — his former and current wives and three children — are currently living in Beijing and Macau, said another intelligence committee member, Lee Cheol-Woo.
"They are under the protection of the Chinese authorities," he said, adding Jong-Nam had entered Malaysia on February 6, a week before his death.
Jong-Nam's murder was the highest-profile death under Kim Jong-Un's regime since the execution of the leader's uncle Jang Song-Thaek for treason in December 2013.
Jang, known to be close to China and an advocate of economic reform, played a key role in Jong-Un's rise to power but his power was believed to have irritated the young ruler.
Jong-Nam — believed to have ties with Beijing's elite — was a relatively outspoken figure, publicly criticising Pyongyang's political system on a few occasions.
The 45-year-old said he "personally opposed" the hereditary power transfer in his own family, during an interview with Japan's Asahi TV in 2010.
One of his sons — Han-Sol — also described his uncle Jong-Un as a "dictator" in a rare interview with a Finnish TV station in 2012 while he was studying in Europe.
Jong-Nam is the latest member of the elite to have been murdered or faced such a threat, after falling out of favour with the regime that has ruled the country with an iron fist and pervasive personality cult since its founding in 1948.
Yi Han-Yong, a nephew of Jong-Nam's mother Sung Hye-Rim, was one of them. Yi publicly criticised the ruling Kim family in his memoir and numerous media interviews after defecting to Seoul in 1982.
But he was fatally shot outside his home in 1997 in what Seoul's spy agency described as an assassination by North Korean agents. Yi reportedly muttered "spies" before dying. His attackers were never found.
In 2010 two North Koreans posing as defectors were arrested for a failed bid to kill Hwang Jang-Yop, the North's former top idealogue who defected to the South in 1997.
Hwang died of a heart attack at his home months later.
Follow Emirates 24|7 on Google News.