LA's 'Top Plastic Surgeon': What Dubai women are getting fixed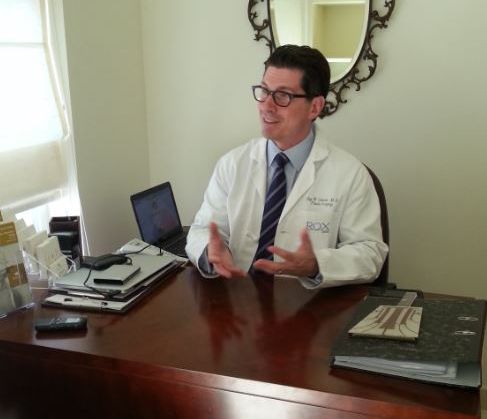 Are you unhappy with the nose and face that you were born with?

If so, then you're amongst the millions of individuals opting for plastic surgery.

Speaking to Emirates 24|7, Dr Jay Calvert, internationally-recognised plastic surgeon from Beverly Hills, California said: "Locally, what I see the most of and maybe it's just because of what I do, people are mostly looking for breast augmentation, rhinoplasty and facelifts, and I also see there is a lot of liposuction being done here and I think it's about the same in the US."

The recently named Top Plastic Surgeon of Los Angeles said that a lot of patients from this part of the world are interested in looking better and doing good things to themselves.

The expert added that clients opting for an operation to look better, do have a budget in place.

"In general, when people come for plastic surgery, they plan on spending anywhere from Dh20,000 to Dh100,000 depending on what they're doing," said Dr Calvert.

The active member of the prestigious Rhinoplasty Society, and certified by The American Board of Plastic Surgery said that he has a special interest in the areas of aesthetic Rhinoplasty and reconstructive nasal surgery.

One of those popular procedures is rhinoplasty, Dr Calvert's specialty.

"Some people do rhinoplasty in 25 to 30 minutes, whereas I do one that takes three hours," explained the surgeon.

He added: "They're two very different operations, but I think patients wonder why does one take 30 minutes and one takes three hours , so there a lot of education involved, explaining that not all rhinoplasty is the same, they're really not."

As the nose sits in the centre of the face, poor surgical technique can lead to permanent deformity.

Dr Calvert described what he takes into consideration in addition to combining several procedures into one operation and creating that facial harmony.

"You really have to pay attention as a surgeon and listen to what they want, look at their face, know where they're from and their ethnic background, because it tells me about their anatomy, because people's faces are built differently depending on where they're from, it's all so fascinating."

Rhinoplasty is considered among the most difficult of all cosmetic surgeries, and yet, changing the shape of people's noses is more popular than ever.

Dr Calvert explained: "More people are having rhinoplasty because the techniques have gotten much better, people are getting better results, they're getting more of what they want out of the operation, so not only are they getting better outcomes but they're getting more custom tailored results."

Since patients from around the world fly in to see the rhinoplasty expert in California, they're now coming down to Dubai.

"This is more convenient for my Russian patients, and of course my folks from Saudi Arabia and Kuwait, which there's a fair number, it's much easier for them to come here," explained Dr Calvert.

As the popularity of aesthetic surgery in the GCC did not surprise him, one other thing did.

"I was quite surprised at how many plastic surgeons there are here, it's a pretty small city, but there are many plastic surgeons as there as in Beverly Hills!"

The visiting doctor has been coming to Dubai twice a year to the Aesthetica Clinic.

Dr Calvert has made many TV appearances including shows such as the Doctors and Tyra Banks, where he displayed his vast surgical experiences.
Also see: Movie Listings in UAE
Follow Emirates 24|7 on Google News.