Lawyers release video of woman who died in hospital parking lot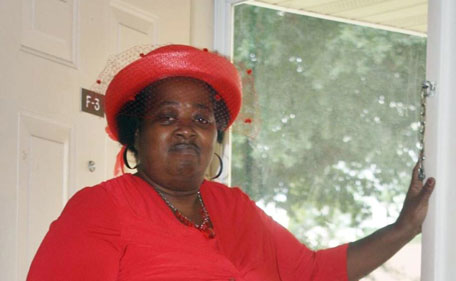 A woman who collapsed and later died after being forcibly removed from a Florida hospital lay in the parking lot beside a police officer's car for nearly 18 minutes before a doctor readmitted her, according to police dash-cam audio and video released on Wednesday.
Click here for the video

Attorneys for the family of Barbara Dawson renewed their charges of negligence against Liberty Calhoun Hospital and Blountstown Police as multiple state agencies continue their investigation into Dawson's Dec. 21 death.

"We have heard that time and time again how everyone was acting with due speed to assist her. Now that we have that tape we know that is not true," attorney Darryl Parks said. "There was not deliberate speed and who was assessing her at the side of the car was inconsistent."

The Tallahassee law firm Parks & Crump received the video on Monday night and reviewed it. The family saw it for the first time following a press conference where media received the video.

"We think what they did was put criminality over health care. We think what they did here was compromise public safety by failing to give her the medical attention that she deserved and needed," said state Rep. Darryl Rouson, D-St. Petersburg, who is a co-counsel for Dawson's family.

The recording is roughly 2 ½-hours long, but only the first half covers what happened at the hospital. The recording begins with the officer arriving at the hospital. He enters the 57-year-old Dawson's hospital room and tries to persuade her to leave. The officer tells Angela Donar, who is Dawson's aunt and also in the room, "she can walk out peacefully or be arrested."

Dawson repeatedly replies, "I can't breathe." Her tone is panic-stricken.

After refusing to seek health care elsewhere, Dawson is arrested for disorderly conduct and trespassing. The oxygen hose is disconnected and the officer walks the 270-pound woman out to the police car, holding her by the arm, nudging her along.

Dawson falls to the ground 1 to 2 feet from the patrol car while the officer reaches for his keys. Dawson cut her feet and knees.

After she collapses, the officer tells Dawson that "falling down and laying down, that's not going to stop you from going to jail. If I have to get help to get you in this car. ... You are only making things worse on you."

For 18 minutes she lay propped against the police cruiser as the officer and nurses made multiple attempts to get her into the car. The nurses also checked her pulse. Not until a doctor came out was she readmitted.

"Get her on the stretcher. This is totally different from what I discharged her for," the doctor says on the recording.

The Blountstown police officer who arrested Dawson is heard saying that he thought Dawson "was being non-compliant by not trying to get in my car and faking it."

When Dawson was brought back into the emergency room, one of the nurses is heard saying, "I've never seen Barbara down like this."

The medical examiner's office found that Dawson died from a blood clot due to being excessively overweight.

"Why didn't she get the benefit of the doubt from the hospital and police department? Not only that but the benefit of humanity?" attorney Benjamin Crump asked.

Calhoun Liberty Hospital CEO Ruth Attaway said in an emailed statement that they have also received a copy of the video and are still reviewing it. Attaway also reiterated that the hospital is cooperating with state investigations and is in the process of setting up a community task force with local leaders to review hospital practices.

Florida Department of Law Enforcement spokesman Steve Arthur and Agency for Health Care Administration communications director Mallory Deason said their investigations are ongoing. Jackie Schutz, the communications director for Governor Rick Scott, said their office has been in communication with FDLE, AHCA and the state NAACP.

Eight members of Dawson's family attended Wednesday's press conference, including Dawson's cousin Martha Smith Dickson, who spoke for the family.

"The police is supposed to protect and serve. The hospital is supposed to save lives. When Barbara went to the hospital she was denied all of those rights," she said. "So her family is saying today we cannot bring her back therefore we want justice for Barbara so that this will not happen to anyone else."
Follow Emirates 24|7 on Google News.