'Lucky' Australians dodge cyclone's worst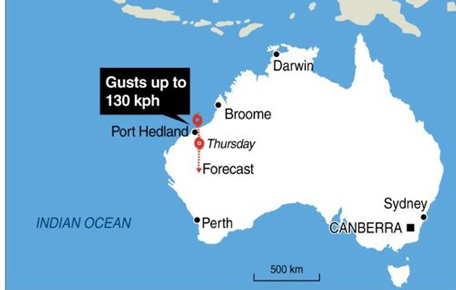 Australians in the remote northwest mining belt described their lucky escape Thursday after a major cyclone made landfall at a lower intensity than forecast and spared the more populous areas.
Tropical cyclone Rusty crossed Australia's northwest coast on Wednesday evening as a mid-strength category three storm - short of the category four than had been expected and well below a top-level category five.
The massive, slow-moving storm also took a last-minute turn to come onshore further east of the major iron ore mining centre Port Hedland than forecast, pummeling the isolated outpost of Pardoo but sparing most residents the worst.
"We were expecting the worst, we were expecting to get smashed," South Hedland police senior sergeant Ron Patchett told ABC radio.
"As a result we're all feeling a bit lucky."
Emergency workers said there had been a few reports of "minor damage" in cyclone-prone Port Hedland, about 1,300 kilometres (800 miles) north of Perth, but nothing serious.
Even in Pardoo, which bore the brunt of the wild weather, destruction was less than feared. The town is home to a single roadhouse service station and a cattle farm.
"Water and wind has got in through some weatherboards and it's popped tiles off in the toilets. There are a lot of trees and limbs and stuff around," said Pardoo Roadhouse manager Ian Badger.
By Thursday morning Rusty had weakened to a category one storm and was slowly tracking inland over the outback town of Marble Bar, with red alerts lifted for coastal communities, allowing hundreds of evacuees to return home.
The weather bureau said flooding was now the major concern in the resources-rich Pilbara region, with some 400mm (16 inches) of rain expected.
Gusts of up to 120 kilometres (75 miles) per hour were expected to die out by Thursday evening, when Rusty would weaken below cyclone intensity.
Global iron ore giants including BHP Billiton, Rio Tinto and Fortescue Metals Group have all shut down or scaled back operations in preparation and said the full extent of damage would not be known until the storm had passed.
Rio said Dampier harbour had been reopened on Wednesday night but it would take "quite a while yet for the ships to return to our two terminals".
"No word yet on Cape Lambert, which is more exposed, though obviously the sea conditions have calmed sufficiently that it won't be too long there either," a spokesman told AFP.
"The only other issue outstanding is to what extent it rains heavily in the east Pilbara, where some of our biggest mines are. Always has potential to cause disruptions, but we just don't know yet."
The Port Hedland Port Authority said initial inspections suggested that "overall we seem to have come through the event without any major damage or issues."
"Generally speaking it looks like Rusty has not caused any significant issues," a spokesman said.
Australia's northeast and northwest coasts are frequently battered by cyclones during the warmer summer months between December-February.
Follow Emirates 24|7 on Google News.