Machetes, gunshots transform leafy Cairo suburb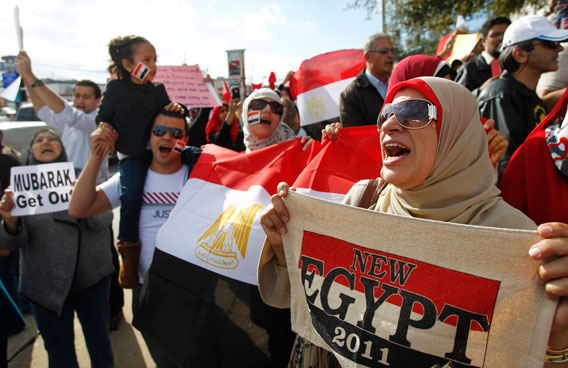 The man with the machete peered into the car as about a dozen other Egyptian men armed with sticks, poles and knives gathered around.
"Go home and look after your family," said the leader of the group after I showed him my ID and explained that my home in the usually sleepy Cairo surburb of Maadi was just down the road.
It was not quite the commute home I am used to. On Saturday, sporadic gunfire echoed across the usually quiet and leafy district. It wasn't clear where it came from, but it was enough to send shivers through residents.
Impromptu neighbourhood watches sprung up everywhere. One group had gathered every couple of hundred metres (yard) on the road approaching my home.
It was a surreal experience in a city famed for being so full of life. Cairo is a capital that wakes up at night. Taxis needn't be booked since there is always one to be hailed even in the very early hours of the morning.
Not surprising for a country that depends on tourism, it is a nation that prides itself on hospitality.
It may be one of the grimiest and polluted cities in the world, but Cairo surely also is one of the safest.
President Hosni Mubarak ordered the army onto the streets on Friday in an effort to contain the mounting protests against his rule. But after a day spent trying to quash the protests that erupted all over the country, the police suddenly had withdrawn entirely from the streets.
Law and order disintegrated. Shops were looted and buildings torched. Most of all, there was panic across residential neighbourhoods, regardless of how real the danger.
MAKESHIFT BARRICADES
Going home to my family at night involved negotiating army checkpoints, squeezing past makeshift barricades and explaining myself to groups of men wielding any implement or pole that could make do as a weapon.
An army unit stood just a few metres away from the men with the machetes and knives who blocked my way. Two tanks pointed their guns at approaching traffic.
That didn't seem to offer the reassurance residents wanted amid talk that prisoners at a nearby prison had broken free.
"I want you to know, we are protecting our country," one neighbourhood watch leader said, waving a large stick in his hands, before he dragged a concrete block to the roadside to let me pass.
Not everyone was convinced by the talk of looting and lawlessness. To some, talk of marauding gangs seemed like a helpful government ruse to get young men - who have made up the majority of the protesters - off the streets.
"The TV said that prisoners had escaped and that we should protect our property, so we formed groups and put them on the street at night," said Ahmed Sameh, 33. "I think it is a game they are playing to prevent the youth from going out to protest."
He was speaking early on Sunday morning, as he and his mates doused bonfires they had lit overnight in the middle of a road lined with shops and restaurants.
"It's not logical that with only a few sticks we can protect ourselves from gangs with guns, but they wanted us to stay out at night so we're tired and sleep all day - but I'll protest anyway," he said with a rye smile.
Despite his doubts, he said he and his group would be out on the streets protecting the neighbourhood on Sunday night, too.
Follow Emirates 24|7 on Google News.