Made-in-China passenger jet set to take wing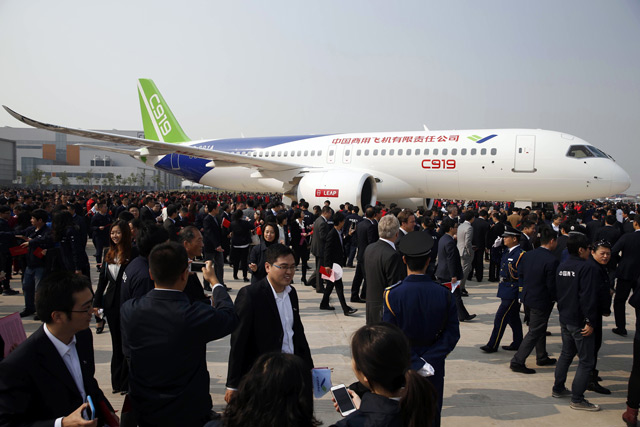 China is expected within days to carry out the maiden test flight of a home-grown passenger jet built to meet soaring Chinese travel demand and challenge the dominance of Boeing and Airbus.
The C919, built by state-owned aerospace manufacturer Commercial Aircraft Corporation of China (COMAC), was set to take wing over Shanghai and could be cleared for takeoff as early as Friday, according to state media.
The narrow-body jet represents nearly a decade of effort in a state-mandated drive to reduce dependence on European consortium Airbus and US aerospace giant Boeing.
"The first flight itself is not a huge deal. (But) of course, it's going to be a hugely symbolic moment in the evolution of China's aviation industry," said Greg Waldron, Asia managing editor at industry publication Flightglobal.
The C919 is the country's first big passenger plane and the latest sign of growing Chinese ambition and technical skill, coming one week after China launched its first domestically made aircraft carrier and successfully docked a cargo spacecraft with an orbiting space lab.
The C919 can seat 168 passengers and has a range of up to 5,555 kilometres (3,444 miles).
Long way to go
China is a huge battleground for Boeing and Airbus, with its travellers taking to the skies in ever-growing numbers.
The Chinese travel market is expected to surpass the United States by 2024, according to the International Air Transport Association (IATA).
Airbus has estimated Chinese airlines will need nearly 6,000 new planes over the next two decades, while Boeing foresees 6,800 aircraft. Both put the combined price tags for those planes at around $1 trillion.
But aviation analysts said Shanghai-based COMAC has a long journey ahead before it can challenge the lock held on the market by Boeing and Airbus.
"This is an important milestone for China with this new aircraft. But for it to move to the next stage, which is to sell this product, is not going to be so easy," said Shukor Yusof, an analyst with Malaysia-based aviation consultancy Endau Analytics.
But COMAC may be able to rely on purchases by fast-growing Chinese airlines as it looks to get sales off the ground.
COMAC had already received 570 orders by the end of last year, almost all from domestic airlines.
Waldron agreed it will take time, but said that over the next century China will become a world aviation player.
"You are going to have three big companies. You will have Boeing, you will have Airbus, and you will have COMAC," he said.
China has dreamed of building its own civil aircraft since the 1970s, when it began work on the narrow-body Y-10, which was eventually deemed unviable and never entered service.
COMAC's first regional jet, the 90-seat ARJ 21, entered service in 2016, several years late.
Long-haul ambition
The ARJ 21 is currently restricted to flying Chinese domestic routes as it still lacks the crucial US Federal Aviation Administration (FAA) certification that would allow it to fly US skies.
The C919's first test flight had been due to take place in 2016 but was delayed.
Besides the C919, China is also working with Russia to develop a long-haul wide-bodied jet called the C929.
Although the C919 is made in China, foreign firms are playing key roles by supplying systems as well as the engines, which are made by CFM International, a joint venture between General Electric (GE) of the US and France's Safran.
During a visit to COMAC in 2014, President Xi Jinping said not having a homegrown plane left China at the mercy of foreign industrial groups, state media reported at the time.
China last August launched a new multi-billion dollar jet-engine conglomerate with nearly 100,000 employees, with the hope of powering its own planes with self-made engines.
After the C919's first flight, it will still need to pass a series of tests to obtain Chinese airworthiness certification before it can sell the aircraft.
China also has for years been in talks with the FAA to obtain certification for both the ARJ 21 and the C919, without result.
Follow Emirates 24|7 on Google News.