Malaysians' emotional return from Pyongyang in Kim body swap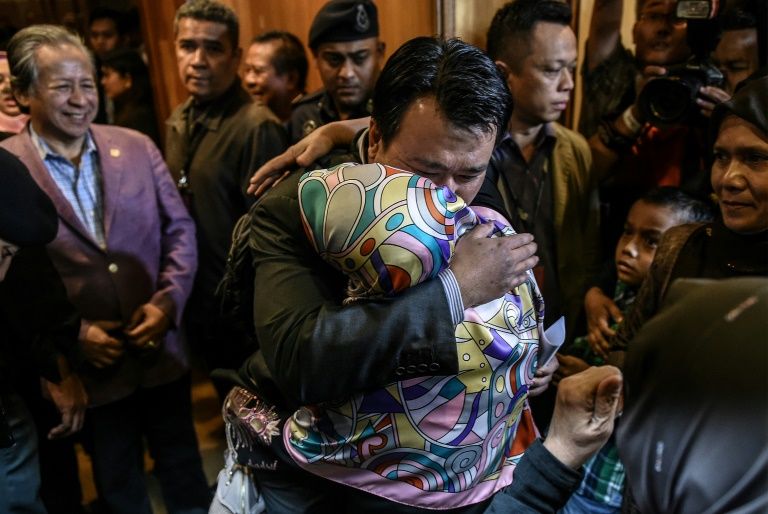 Nine Malaysians freed by Pyongyang made an emotional return home Friday, after Kuala Lumpur sent back the body of the assassinated half-brother of North Korea's leader to end a bitter diplomatic feud.
Kim Jong-Nam was killed with the lethal nerve agent VX on February 13 at Kuala Lumpur airport, triggering a major clash between Malaysia and North Korea, which saw them expel each other's ambassadors and bar citizens from leaving.
But a deal announced by Malaysian Prime Minister Najib Razak and confirmed by North Korean state media on Thursday said the two countries had lifted their respective travel bans, and Kuala Lumpur would send Kim's body to North Korea.
The Malaysians - three embassy staff and six family members, including a baby and three other children - landed in Kuala Lumpur before sunrise where they were met on the tarmac by Foreign Minister Anifah Aman.
There were emotional scenes as they were embraced by tearful relatives who had also gathered to meet them.
Mohamad Nor Azrin, counsellor of the Malaysian embassy in Pyongyang, said that while they had not been threatened and were free to move around they were not allowed to leave.
"We were very concerned because we had done no wrong. But we had to keep our spirits up," he told reporters.
Najib on Thursday said his government "worked intensively behind the scenes" to bring its citizens home and vowed "to bring those responsible for this murder to justice".
Feeling nervous
The Malaysians were flown out on a government-owned business jet piloted by a senior Royal Malaysian Air Force officer.
Lieutenant Colonel Hasrizan Kamis said the Bombardier jet left for Pyongyang from a Malaysian airbase on Thursday, apparently after talks reached a breakthrough.
The jet turned around in the evening with the nine on board, making a two-hour refuelling stop in the southeastern Chinese city of Fuzhou.
"There was a feeling of nervousness until we exited North Korean airspace," Kamis told AFP. "Everyone felt relieved."
Najib on Thursday declared on Twitter that the diplomatic crisis with North Korea was over.
He had earlier announced that the body was being sent back "following the completion of the autopsy on the deceased and receipt of a letter from his family requesting the remains be returned to North Korea".
He did not specify who in the family had made the request. Kim's wife and children, who were living in exile in the Chinese territory of Macau, are believed to be in hiding after the murder.
On Friday, foreign minister Anifah confirmed the body was on its way back to North Korea after being kept in a hospital morgue in Kuala Lumpur for more than six weeks.
Media reports said a coffin was put on board a Beijing-bound Malaysian Airlines plane Thursday evening. An AFP photographer saw a North Korean embassy van and officials leaving Beijing airport early Friday morning.
South Korean news agency Yonhap reported Friday Kim's body was expected to leave for Pyongyang on an Air Koryo flight as early as on Saturday.
The South has blamed Pyongyang for the Cold War-style killing, citing what they say was a standing order from North Korea's leader Kim Jong-Un to murder his exiled and estranged half-brother.
But the North denies this and denounced Malaysia's investigation into the death as an attempt to smear the secretive regime.
It had insisted that the man died of a heart attack and his body should be handed over to Pyongyang.
Body a 'propaganda tool'
Analysts said the North Korean regime may use Kim's body as a "propaganda tool".
"They will likely use the body to claim they were not responsible and tell an alternative narrative," said Bridget Welsh, an expert on Southeast Asian politics.
Pyongyang has refused to confirm the identity of the victim but Malaysia confirmed it using DNA evidence.
Two women - one Vietnamese and one Indonesian - have been arrested and charged with the murder. Airport CCTV footage shows them approaching the 45-year-old victim and apparently smearing his face with a piece of cloth.
Malaysian investigators are also seeking seven North Korean suspects, four of whom left Malaysia on the day of the murder.
Follow Emirates 24|7 on Google News.