Man with world's largest feet receives welcome gift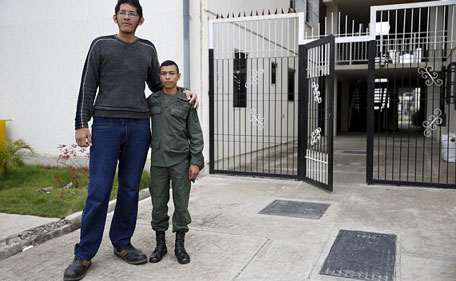 Finding comfortable shoes can be a challenge even for those with average-shaped feet. But it's virtually impossible for the Venezuelan man who holds the record for the world's largest feet.
So it is hard to overstate just how welcome the gift was Jeison Rodriguez received on Wednesday: four pairs of size-26 shoes.
Reuters
The donation from Georg Wessels - a German shoemaker who specializes in making irregular-sized shoes - included boots, sneakers, clogs and sandals.
"I've been making shoes for the world's tallest people for almost 40 years and I do it for free," Wessels said in a telephone interview.
The businessman says he has donated some 500 pairs of shoes.
Reuters
"I never stop to think how much these shoes cost because they're gifts," he said.
The Guinness Book of World Records recognized Rodriguez, 20, as having the world's largest feet in 2014. His right foot measures 15.8 inches (40.1 centimeters) and his left 15.6 inches.
Although Rodriguez and Wessels do not speak a common language, they have kept in touch since the German first gave him three pairs of shoes three years ago.
Reuters
"Jeison was so very pleased. It was incredible," said Wessels, who was contacted at the time by relatives of Rodriguez living in Germany.
Rodriguez is also Venezuela's tallest man at 7 feet three inches (2.21 meters).
Reuters
Follow Emirates 24|7 on Google News.