Meet baby boy who cannot cry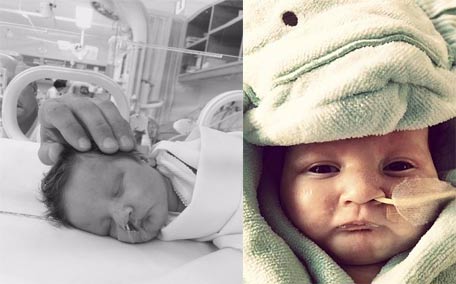 A baby boy born in Sydney cannot cry due to a rare brain disorder.

Australian 'Daily Telegraph' reports that the baby was born with Miller-Dieker Lissencephaly syndrome, which means no senses are going in or out of his brain.
(Facebook)

The syndrome can cause severe intellectual disability, developmental delay, seizures, abnormal muscle stiffness, weak muscle tone and feeding difficulties.
Five-week-old Tate Burley will be lucky to live out his childhood, the report adds.
(Facebook)
The baby has two older brothers aged 13 and seven. And the family has so far raised [Aus]$13,000 to help meet the medical bills.
His mom just want him to cry. "We want the sleepless nights and all the things a parent goes through…"
The baby was born weighing just 1.7kg, and his brain is smooth like an egg. Generally, the smoother the surface of the brain is, the more severe the symptoms are.
Follow Emirates 24|7 on Google News.