Mercury dips to 25.8°C in UAE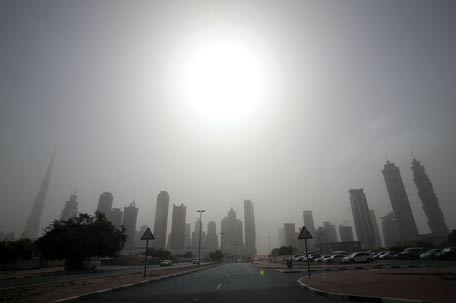 UAE residents woke up to overcast skies on Tuesday, with several quipping on social media the Indian monsoons may have found their way over here.
The lowest temperature recorded over the country on Tuesday morning was 25.8°C in Damsa at 5.45am.
According to the National Centre of Meteorology and Seismology (NCMS), temperatures will remain between 34 and 39 degrees Celsius over coastal areas, while hitting highs of 44 degrees in internal areas.
Maximum temperatures in the mountains will average in the mid-30s.
The weather pattern is expected to continue over the next 48 hours, with the NCMS stating the weather will remain partly cloudy and hazy over some areas.
Moderate to fresh winds in general will cause sand and dust to blow, which may reduce horizontal visibility at times, especially over the exposed areas.

The NCMS states the wind speed could reach highs of 50kmper hour, starting out northwesterly before becoming southeasterly by night over the northern coast.
Relative humidity is likely to increase during night and early morning over some internal and coastal areas, hitting highs of 95 per cent at times.
The sea will be rough in the Arabian Gulf and moderate to rough at times in the Oman Sea.
Follow Emirates 24|7 on Google News.