Mexico confirms killing of 'dead' drug capo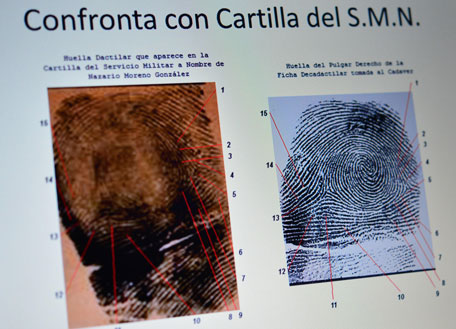 A Mexican drug lord said to have been killed more than three years ago was shot dead in a clash with authorities Sunday, officials said.

A man who died in a shootout in western Michoacan state "has been identified as Nazario Moreno," also known as "El Chayo," a government official said.

National Public Safety chief Monte Alejandro Rubido told a briefing that military staff tried to apprehend Moreno, but that when he resisted they responded by "killing the alleged criminal on the spot" near the town of Tumbiscatio.

The previous Mexican government reported that Moreno, a leader of the La Familia cartel, was killed in December 2010. But his body was never located and reported sightings fueled speculation he was alive.

"From a fingerprint analysis we have confirmed 100 percent that this was Nazario Moreno Gonzalez," said Tomas Zeron, the investigations chief at the federal prosecutor's office.

The government deployed more than 9,000 troops and federal police in Michoacan's Tierra Caliente ("hot land") region in January after new gunfights erupted between the cartel and vigilantes.

Following that offensive "it was learned that Nazario Moreno was still alive and remained leader of a criminal organization in the state," Rubido said.

Michoacan is known as Mexico's lime and avocado heartland, but it is also the country's top producer of iron ore, extracting four million tonnes in 2012, or 27 percent of national output, according to the economy ministry.

The Knights Templar gang snatched the underground riches to diversify its business, which includes the production of crystal meth and extortion rackets against fruit growers, tortilla makers and municipal officials.

The drug cartel has illegally extracted iron ore, using the Pacific port of Lazaro Cardenas to export the mineral to China, officials say.

At the same time, the gang imports chemical precursors from Asia to make crystal meth in makeshift mountain labs.

Moreno was a founder of La Familia Michoacana, which spawned the Knights Templar after his presumed death.

He was considered the cartel's spiritual leader, having penned a "bible" used to indoctrinate recruits.

The Knights' current leader is Servando "La Tuta" Gomez.

After Moreno's alleged death in 2010, he was turned into a saintly figure in Michoacan, with shrines built in his honor.

Yet many in the state were always convinced that Moreno had survived the 2010 shootout with federal police. Vigilante militias that formed last year pressed the government to arrest him.

A US security official several weeks ago had told AFP privately that Moreno was alive, hiding in the mountains and leading the Knights Templar.

"He sees himself as Che Guevara, dresses up in Knights Templar outfit with the Maltese cross and even a sword," the official said.

Asked why Moreno had kept himself out of sight, the official said: "If he showed his face, it would be so humiliating for the government that it would have to go after him."


Follow Emirates 24|7 on Google News.