MH370: 2 years on, new debris found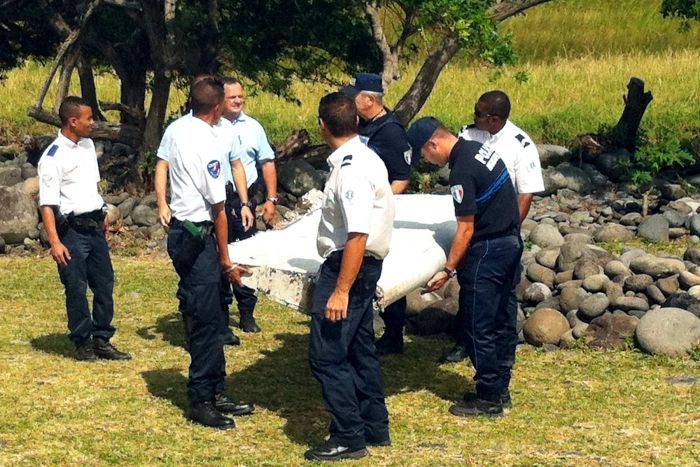 The man who found a wing fragment of the Malaysia Airlines Flight 370 that disappeared nearly two years ago on a beach in the French Indian Ocean island of Reunion has found more mysterious debris, a square-shaped gray item with blue border, in nearly the same spot.
Johny Begue told The Associated Press on Sunday that he found the piece about 5.30 pm Thursday and turned it into the gendarmerie on Friday morning. A special gendarmerie air brigade in Saint Denis, the capital of Reunion, confirmed it received the item.
Begue found a wing fragment known as a flaperon on July 29 that French investigators identified in September as part of the passenger jet that disappeared with 239 people aboard on March 8, 2014.
Begue said that unlike the flaperon there were no barnacles on the latest item, which he said was square and estimated that it measured 40 by 40 centimeters (about 15.5 by 15.5 inches).
"I was running. After, when I stopped to rest, that's when I found the piece" lying on the stony beach several meters from the water, Begue said by telephone. "The same beach and nearly the same place."
He said the piece he found on the Saint-Andre beach was thinner and smaller than the flaperon, but the material had the same appearance, with a honeycombed interior.
"It looks like the other one, but I don't know if it's part of the plane or not. Experts will say," the 49-year-old Begue said.
The gendarmerie's Territorial Air Brigade confirmed that Begue turned over the piece on Friday morning, but had no further comment.
An official in prefecture, or French state body, Michael Masseaux, said an initial examination of the part would normally be handled by the gendarmerie before deciding whether the piece should be sent to mainland France for further investigation. The French accident investigation bureau spokeswoman, Martine Del bono, said Sunday she hadn't been informed of the find.
The flaperon, which had a serial number, was sent to the French Accident Investigation Bureau's research laboratory near Toulouse where it was positively identified as a part corresponding to the missing Malaysian plane, a Boeing 777.
Begue's latest discovery came just days after an American, Blaine Gibson, found an airplane part in Mozambique, also with a coastline on the Indian Ocean but west of Reunion.
Relatives of Chinese passengers file suit
Relatives of a dozen Chinese passengers aboard missing flight MH370 began filing suits against Malaysia Airlines at a Beijing court Monday, a day ahead of the second anniversary of its disappearance and a legal deadline to do so.
Packed into a small office at the Beijing Rail Transportation Court, which has been designated to handle MH370 cases, they stood holding litigation papers in their hands. Several wiped away tears, turning to borrow tissues from neighbours, before depositing their documents with court officials.
The flight, with 239 people - including 153 Chinese citizens - on board, vanished en route from Kuala Lumpur to Beijing on March 8, 2014, and authorities said it went down in the southern Indian Ocean.
Under international agreements, families have two years to sue over air accidents.
But many Chinese families were "deeply conflicted" over the decision to go to court, said lawyer Zhang Qihuai, whose Lanpeng firm represents the group who were filing suit on Monday.
Even while suing for the wrongful deaths of their loved ones, many Chinese next of kin consistently express beliefs that the passengers are still alive, perhaps being held at an unknown location, despite a piece of the plane washing up on the French Indian Ocean island of Reunion and other potential debris being found in Mozambique.
"They think that after you've accepted compensation, the company can deny any further responsibility and wash its hands of the incident, and that the public will naturally forget about the whole thing," explained Zhang.
The compensation requested ranged from around five to eight million yuan ($755,000 to $1.23 million) per victim, he said, depending on their age and earnings.
"Originally, many didn't intend to sue, and instead wanted to continue waiting. But there's a time limit, so they have no other choice -- losing the right to sue would be terribly painful."
Several US, Malaysian, Australian and Chinese law firms have told AFP that they have begun filing suit on behalf of relatives, seeking undisclosed damages.
'My child is safe'
A vast Australian-search of 120,000 square kilometres of the southern Indian Ocean seabed has so far failed to locate the wreckage, and authorities plan to end the operation - projected to cost up to $130 million- if no new leads emerge by the time it is completed, expected in July.
The relatives hope that court scrutiny will help reveal answers about what befell the plane.
At the same time, many express misgivings over negotiating compensation while the investigation remains inconclusive, referring to payouts as "blood money, received in exchange for life".
"I chose to prosecute in order to have my child safely returned to me," said Gao Xianying, 65, who lost her daughter, son-in-law, and three-year-old granddaughter on the flight.
"I'm convinced that the plane didn't crash into the Indian Ocean, that it landed somewhere and that my child is safe, living on this earth."
She would never believe her family's death until their bodies were found, she said.
"You can scream your excuses until the heavens and the earth come down, for a thousand years or ten thousand, but without concrete evidence I won't believe it or accept it. I want the truth! Where is the plane? Where are the passengers?" she asked.
Zhang said his clients' desire for answers to the question of the plane's fate put them under enormous pressure.
For Gao, the deadline was "unjust and unfair, causing us a lot of mental harm", and ought not to apply to a case as inconclusive as MH370.
"The date March 8 is like a knife that has stabbed us once again," she said, wiping away tears.
Follow Emirates 24|7 on Google News.