Military urges halt to strikes gripping Egypt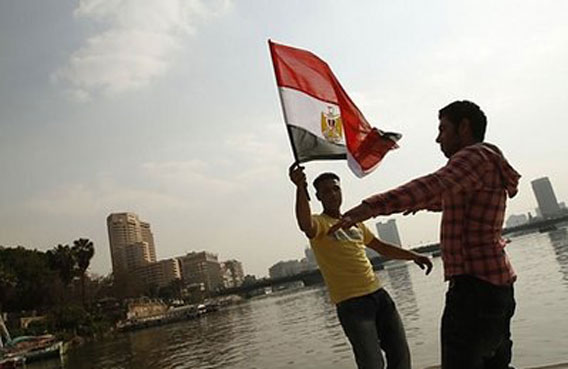 Egypt's military government on Monday urged an end to widespread strikes following the popular uprising that overthrew Hosni Mubarak, as the United States pressed for an end to 30-year-old emergency laws.
The orders came after the elderly generals now ruling the country met some of the young Internet activists who triggered the revolt against Mubarak, reportedly promising a referendum on a new constitution within two months.
European governments, meanwhile, moved on Egyptian requests to freeze the assets of several officials of the ousted regime amid accusations that they had salted away billions of dollars in ill-gotten assets.
In its latest announcement since it took power on Friday, the Supreme Council of the Armed Forces urged union leaders to call off their action.
They stopped short however of issuing a decree banning strikes, as it had been rumoured to be preparing to do.
"Honourable citizens can see that protests at this critical time will have a negative effect in harming the security of the country," its spokesman said.
The uprising that toppled Mubarak's 30-year rule has splintered into pay strikes by workers in the banking, transport, health care, oil, tourism and textiles sectors, as well as state-owned media and government bodies.
"It's difficult to say exactly how many people are striking and where. Who isn't striking?" Kamal Abbas of the Centre for Trade Union and Workers' Services said.
Many of the strikes were aimed at removing corrupt union leaders tied to Mubarak, he said.
At one such protest, public transport workers demanded better working conditions, accusing officials of corruption.
"They send us out with vehicles with bad brakes... There is no maintenance," said one demonstrator.
At another protest, hospital workers formed a human chain to stop traffic on the highway south out of the capital, causing a major traffic jam and infuriating motorists.
The strikes prompted the stock exchange to once again postpone reopening until next week.
The cyber campaigners said the junta, which dissolved parliament and suspended the constitution on Sunday, had vowed to rewrite the document within 10 days in line with the protesters' demands for democratic change.
The Supreme Council of the Armed Forces has set a six-month timetable for holding elections but said the cabinet Mubarak hastily appointed on January 31 - headed by a former air force commander - would stay on.
"We met the army... to understand their point of view and lay out our views," said 30-year-old Google executive Wael Ghonim and blogger Amr Salama, in a note on a pro-democracy website that helped launch the revolt.
Ghonim became an unlikely hero of the uprising after tearfully describing his 12 days in detention in a televised interview.
The sweeping changes announced by the council dismantled the political system that underpinned Mubarak's rule, which ended Friday when he was driven from power after the 18-day pro-democracy uprising.
The dissolved parliament was seen as illegitimate following elections last year marred by widespread allegations of fraud, which gave Mubarak's National Democratic Party (NDP) an overwhelming majority.
Protesters had also demanded the overhaul of the constitution, which placed restrictions on who could stand in elections and made it virtually impossible to seriously challenge the NDP.
Several members of the previous government, including sacked premier Ahmed Nazif and widely hated interior minister Habib al-Adly, have been banned from leaving Egypt by authorities investigating graft allegations.
In an attempt to show their solidarity with the uprising, hundreds of members of Mubarak's police force - widely viewed as corrupt and brutal - have called for Adly, their former boss, to be publicly executed.
US Secretary of State Hillary Clinton said she hoped the military leaders would lift the three-decade old emergency law as promised.
In comments to Al-Jazeera television, Clinton stressed that the process should be "directed and defined" by the Egyptian people.
But she added: "One of the demands which we have supported for a long time is to lift the emergency decree.
"There has been an announcement that will be done and we hope that it will be," she added.
British Foreign Secretary William Hague said his government had been asked to freeze the assets of several former regime officials. A German foreign ministry said Berlin had received a similar request.
The Tunisian uprising was an inspiration to Egypt's protest movement, which in turn triggered anti-government demonstrations around the Middle East, from Algeria to Iran and Yemen.
Follow Emirates 24|7 on Google News.