Modi mania: 5 moments from Indian PM's 'Marhaba Namo' event [video]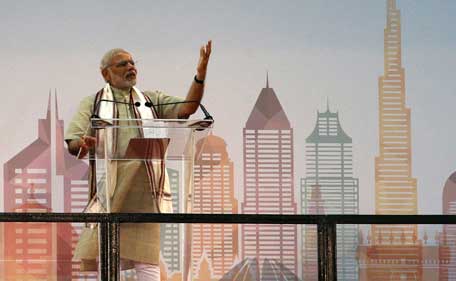 The 48-hour 'Modi Mania' finally reached a fitting crescendo as the Indian Prime Minister made a public address on Monday night at the Dubai International Cricket Stadium.

People laughed and cried and the unanimous cheer for Modi and his oratorial skills could not be denied.

Emirates 24|7 brings you five moments from his address:
He came, he saw, he conquered

Modi is a man of the masses. Even though a 20-foot gap was maintained between him and his enraptured audience at the Dubai Cricket Stadium on Monday night, the Indian PM never once allowed his high profile position – figuratively and literally – to dampen to his spirits or momentum.

From discussing political issues and building relations with India's neighbours, Modi took to the grassroots level and addressed problems facing the common man today, gently reminding his audience that he was one of them not too long ago.

$75 billion pledge

Modi took the opportunity at this public address to thank the rulers of UAE, encouraging everyone to give a resounding applause of gratitude to Sheikh Mohamed bin Zayed Al Nahyan, Crown Prince of Abu Dhabi and Deputy Supreme Commander of the UAE Armed Forces.

This was followed by a standing ovation to Sheikh Mohamed bin Zayed who, according to Modi, has promised to invest $75 billion in India and back its bid for a permanent seat at the United Nations Security Council.

According to the joint statement issued, the money would be distributed through the establishment of the UAE-India Infrastructure Investment Fund.

During his address, Modi said: "There are 700 flights to Gulf but an Indian PM took 34 years to get here. UAE leaders showered me with love. It's a matter of pride. This courtesy is not for one man but for every Indian.

He further stated: "My heartfelt gratitude towards the rulers of UAE. In my two-day trip, the kind of trust that was built is amazing. Abu Dhabi will invest 450-lakh crore rupees in India. I can say trust between India, Abu Dhabi and Dubai will last generations."

Reaching out to workers, NRIs

Modi, who took time out of his busy schedule during the two-day visit to meet blue collar workers in ICAD Residential City, further stated last night: "Blue-collar workers in the Gulf is the biggest sacrifice India has made."
Talking about his health coverage initiative in India costing Rs1 per month and a second one costing 90 paise per month, he further stated: "I appeal to Indians to give this insurance plan to your sister on this 'rakhee' festival. Take both plans and get Rs400,000 coverage. All Indians are seeing you here."
He further added: "Workers are large in numbers here so we've decided that every few times we will set up counsellor camps - once or twice a month to find solutions. If I don't do that for US, it's okay, I must do it here."
The Indian PM also addressed NRI issues, talking about e-services and plans to build more schools in UAE.

He continued: "We've launched an online helpline called 'Madad,' an e-migrate portal for any overseas issues, so you can go online and get help. Those facing technical issues have been given one month - September 17 - notice to fix it.
"For people overseas with medical problems, the Indian community welfare fund has been created. Those who are in jail or facing other issues, we will help them within the limits of the law.

"We have also asked for better counselling services through this fund. And those who need legal help, we'll assist them through such a fund. I know school admissions here are difficult so I've asked for more schools."
Crowd enthusiasm

If there was anything that was giving stiff competition to the 'Modi' chanting, then it was the patriotic spirit of Indians.

'Bharat Mata Ki Jai' ('Praise Mother India') echoed through the stadium as the 25,000 or so attendees expressed their love for their native land. Flags were raised, banners held high and traditional costumes glittered under the stadium's floodlights.

One couple that spoke to 'Emirates 24|7' stated: "We have travelled from Oman to come see our Prime Minister speak. We truly have great expectations from his public address and hope he will use this platform to address issues we NRIs continue to face."

Colourful turnout

Braving the oppressive heat and humidity, tens of thousands came by busloads to hear their Indian PM speak live.

Several were unable to withstand the heat and were helped by paramedics during the six-hour event.

Some unruly members in the crowds also managed to push down the steel barriers to enter the VIP section, before security briefly barred entry and routed people to the grandstand entrance.

Other 'enterprising' individuals took the opportunity to hike water prices, selling 500ml bottles for Dh5.

While the stadium itself wasn't filled to capacity, with nearly 25,000 or so people in attendance, traffic chaos between 3pm and 5pm and again at 9.30pm saw people stuck in hour-long snarls.

But as one spectator said: "I didn't mind the traffic, honestly, as long as I was seated in an air-conditioned car."
Pics and videos: Bindu Rai
Follow Emirates 24|7 on Google News.