Modi to auction controversial 'selfie' suit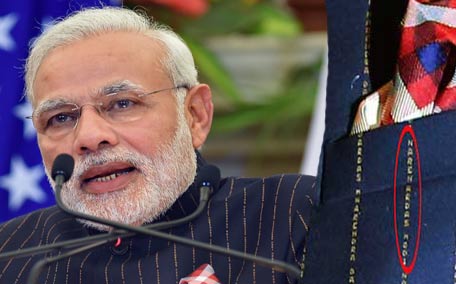 Indian Prime Minister Narendra Modi is to auction a controversial suit that bears his name in gold pinstripes, which he wore at a meeting with US President Barack Obama, leading to attacks he was out of touch in a nation where many live in extreme poverty.

The tailored suit, which was ridiculed by Modi's political opponents, will be auctioned in the state of Gujarat to raise money for a project he is championing to clean the Ganges river. The auction, which starts on Wednesday, will last three days.

"People are very generous in this area and we hope that it will raise a lot of money for a good cause," said Milind Torawane, the municipal commissioner of Surat, a port city home to India's diamond industry, where the auction is being held.

Modi's choice of the navy suit, which was embroidered repeatedly with his name, damaged the image of a man who in last year's election had played up his humble beginnings as a tea-seller and his personal sacrifices for India's advancement.

Political rivals, including Congress party Vice President Rahul Gandhi, who attacked the prime minister over his suit, said it had cost 1 million rupees ($16,000) and Modi should instead concentrate on delivering on his promises to India's poorest.

About a third of the world's extreme poor live in India, up from a fifth in 1981, the World Bank says. The country lags on other social indicators such as child malnutrition.

Torawane said the government would like to raise at least 3 million rupees from the suit sale.

For the auction, Modi donated about 450 objects given since being appointed prime minister in May after winning the biggest parliamentary majority in three decades.

The gifts he has received include silver cufflinks, a ceramic vase, a carpet and a silver box with precious stones, according to the Ministry of External Affairs.
Follow Emirates 24|7 on Google News.