More plastic than fish in ocean by 2050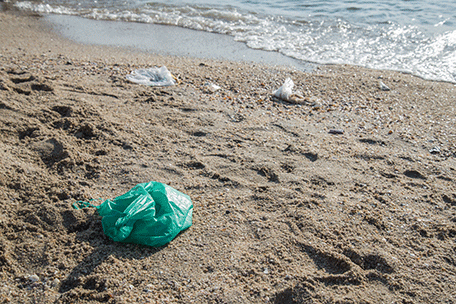 The current system by which we produce, use and dispose of plastics has important drawbacks: plastic packaging material with a value of $80 billion-$120 billion (Dh294-440 billion) is lost each year.
Aside from the financial cost, by 2050, on the current track, oceans are expected to contain more plastics than fish (by weight), according to a new report released today by the World Economic Forum and the Ellen MacArthur Foundation, with McKinsey & Company as a knowledge partner, as part of Project MainStream.
At least 8 million tonnes of plastics leak into the ocean each year – which is equivalent to dumping the contents of one garbage truck into the ocean per minute. If no action is taken, this will increase to two per minute by 2030 and four per minute by 2050.
Plastics can remain in the ocean for hundreds of years in their original form and even longer in small particles, which means that the amount of plastic in the ocean cumulates over time. The best research currently available estimates that there are over 150 million tonnes of plastic waste in the ocean today.
Without significant action, there may be more plastic than fish in the ocean, by weight, by 2050.
Even by 2025, the ratio of plastic to fish in the ocean is expected to be one to three, as plastic stocks in the ocean are forecast to grow to 250 million tonnes in 2025.
Plastics production has surged over the past 50 years, from 15 million tonnes in 1964 to 311 million tonnes in 2014, and is expected to double again over the next 20 years, as plastics come to serve increasingly many applications.
Assessing global plastic packaging flows comprehensively for the first time, the report finds that most plastic packaging is used only once; 95% of the value of plastic packaging material, worth $80 billion-$120 billion annually, is lost to the economy after a short first use.
Today, imagining a world without plastics is nearly impossible. Plastics are increasingly used across the economy, serving as a key enabler for sectors as diverse as packaging, construction, transportation, healthcare and electronics. Plastics now make up roughly 15% of a car by weight and about 50% of the Boeing Dreamliner.
Plastics have brought massive economic benefits to these sectors, thanks to their combination of low cost, versatility, durability and high strength-to-weight ratio.
The success of plastics is reflected in the exponential growth in their production over the past half-century. Since 1964, plastics production has increased twenty-fold, reaching 311 million tonnes in 2014, the equivalent of more than 900 Empire State Buildings.
Plenty of fish in the sea? Maybe not, says study
The global fisheries catch has been underestimated by more than half since 1950, with tens of millions of tonnes unreported every year, said a study Tuesday, and warned that stocks may be running low.
About 109 million tonnes of fish were caught in 2010 -- 30 per cent higher than the 77 million tonnes reported to the UN's Food and Agriculture Organization (FAO), according to the study.
This meant that about 32 million tonnes of catch went unreported that year, "more than the weight of the entire population of the United States," said a research duo from the University of British Columbia, Canada.
In the peak fishing year of 1996, the FAO had documented a global catch of 86 million tonnes. In fact, it was closer to 130 million tonnes, according to the research.
"The world is withdrawing from a joint bank account of fish without knowing what has been withdrawn, or the remaining balance," said the study's lead author Daniel Pauly.
For the study, Pauly and his colleague Dirk Zeller compiled a "catch reconstruction", combining FAO data with estimates of figures countries generally excluded from their official reports.
These included small-scale commercial or subsistence fishing, recreational or illegal fishing, and discarded bycatch.
The pair of researchers, backed by a team of 100 collaborators from more than 50 institutions, relied on academic literature, industrial fishing statistics, local fisheries experts, law enforcers, coastal communities and tourist catch data.
"We find that reconstructed global catches between 1950 and 2010 were 50 per cent higher than data reported to FAO suggest," the authors wrote.
They called for more robust reporting and monitoring of catches.
"This groundbreaking study confirms that we are taking far more fish from our oceans than the official data suggests," commented Joshua Reichert, vice president of the Pew Charitable Trusts, which supported the work.
"It's no longer acceptable to mark down artisanal, subsistence or bycatch catch data as zero in the official record books."
Faster decline
The team also found that the annual catch has been declining since 1996 at a much faster rate than suggested by FAO data.
And rather than the result of catch quotas, the trend may point to stocks running low, Pauly told AFP.
"When we remove countries that have catch limits... the decline persisted," he said by email.
"The overall decline in catches is due to overfishing, and hence bad news."
The FAO had reported the catch shrinking by about 380,000 tonnes per year from 1996 to 2010, but the reconstructed data pointed to a much stronger decline of 1.2 million tonnes per year.
The drop was mainly in large, commercial fishing -- which accounted for 73 million tonnes in 2010, combined with "gradually reduced" levels of discarded bycatch -- to about 10.3 million tonnes per year on average.
But small-scale artisanal catches are on the rise -- from about eight million tonnes in the early 1950s to 22 million tonnes in 2010.
Subsistence fisheries caught about 3.8 million tonnes per year between 2000 to 2010, and the global estimate for recreational catches is about a million tonnes per year.
The team conceded that, as with data submitted to the FAO, their reconstruction "implies a certain degree of uncertainty".
Nevertheless, "these new estimates provide countries with more accurate assessments of catch levels than we have ever had," said Reichert.
John Tanzer, director of green group WWF's global marine programme, also described the report as "bad news".
"We are fishing harder and catching less fish," he told AFP by telephone from Abu Dhabi.
The higher catch estimates were no surprise, said Tanzer, "but the extent to which the study indicated is worrying."
Follow Emirates 24|7 on Google News.