More than 100 hurt in New York train derailment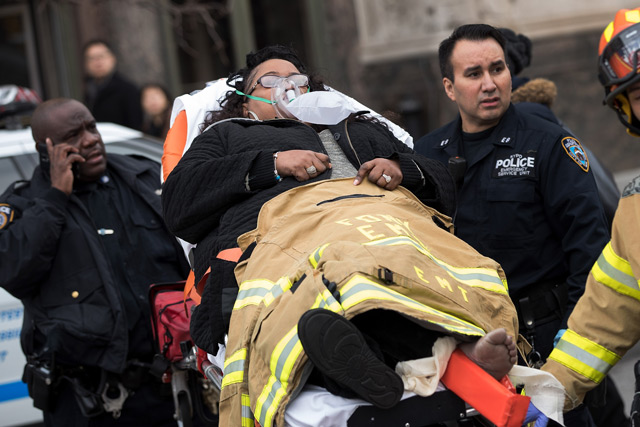 A New York commuter train derailed Wednesday during the morning rush at a station in Brooklyn, sparking chaotic scenes and leaving more than 100 people with minor injuries.
The accident at Atlantic Terminal in the heart of the New York borough came less than four months after a fatal crash on another commuter line in New Jersey, when a speeding train derailed and slammed into a station.
Passengers rushed out as smoke filled the tunnel following Wednesday's crash of a Long Island Rail Road train around 8:30 am (1330 GMT). The impact bent the train's doors and smashed windows.
Some of the injured were brought out on stretchers.
Commuter Aaron Neufeld said on Twitter that the crash was "crazy," but added: "Seems only a few people are lightly injured."
Television footage showed passengers holding ice packs to their heads and nursing bloody noses.
"I was getting up from my seat and there was a loud impact and I flew forward and then flew backward," a passenger named Amanda told local network CBS2.
"It was total chaos, there was smoke on the train and we were sitting there in shock."
Officials -- visibly relieved the crash left no one dead or seriously hurt - said the causes of the derailment were unclear and they were launching an investigation.
"103 injuries reported at scene of Atlantic Terminal LIRR train derailment, all non-life-threatening," the New York Fire Department said in a tweet.
A fire department official said the train carried 600 to 700 people, and the first two cars were seriously damaged.
At least 11 people were taken to hospital, unable to walk, according to FDNY Deputy Assistant Chief Daniel Donoghue.
"We were lucky, it could have been quite a bit worse," he said.
Investigation launched
New York Governor Andrew Cuomo explained that the train was supposed to stop at a bumper but failed to do so, moving a few feet past it. He said the most serious injury was a possible broken leg.
"First concern is (for) the people on the train. There were a number of minor injuries," he told reporters after visiting the scene.
"What happened with the operator, we don't know. And obviously there will be an investigation to find out exactly what happened, why the operator didn't stop the train before it hit the bumper block."
Explaining why it was difficult to pinpoint exactly how many people were injured, Cuomo added: "They were standing and they were getting ready to get off the train.
"The train has a sudden stop, they're not prepared for the sudden stop. They get knocked around, banged around, they hurt an arm, they hurt a leg."
National Transportation Safety Board investigators were due on site.
New York's emergency notification system warned of traffic and transit delays and road closures in the area, though most of the rail network functioned normally after the accident.
Authorities said the Atlantic Terminal, Brooklyn's main rail hub, would resume normal operations by evening rush hour.
In September, a train derailed during rush hour as it entered the station in Hoboken, New Jersey. One person died and 114 were injured.
An investigation into that incident, in which the train entered the station at an unusually high speed, is ongoing.
Follow Emirates 24|7 on Google News.