'Mystery' fish with 'square' body baffles fishermen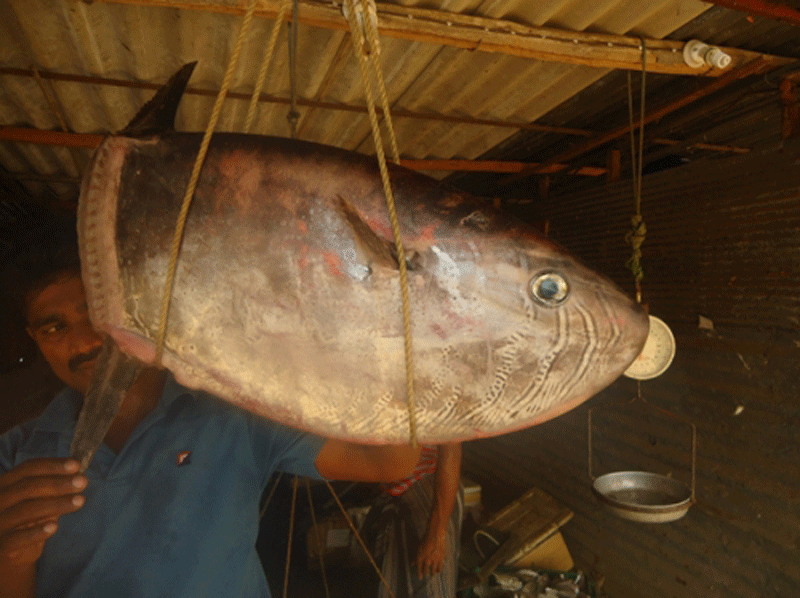 Fishermen in the Kayankeni area of Batticaloa district in Sri Lanka have caught a fish with a square body and no tail, according to the Tamil news web site Tamilwin.

S I M Imthiyaz, a specialist in sea fish, said they have not seen a fish such as this one before.

People flocked to see the strange 65kg fish when it was brought to the Ottamavadi fish market.
Maldivian brought stock of bug eggs

A Maldivian national with a stock of bug eggs in his possession, was arrested at Katunayake International Airport by customs officials when he arrived on EK 651 Emirates flight from Male, the 'Mirror' reported on Saturday.

The bug eggs were discovered in a box of books carried by the suspect. They were handed over to the Animal Quarantine Station of Agricultural Department.

The stock of eggs was destroyed by the officers of the Animal Quarantine Station after a preliminary inquiry.

When questioned, the suspect said that the eggs were to be delivered to an Indian doctor in Sri Lanka.

Papaya and orange cultivation in Sri Lanka was threatened with mealy bugs which were inside garlands brought from India.

Customs official said the bug eggs brought by the Maldivian could also have damaged Sri Lankan agriculture.

Man arrested with heroin near Mahara Prison

Sri Lankan Excise Department officials on Saturday arrested a man with Rs1.5 million worth of heroin in his possession near Mahara Prison, 'Divaina' newspaper reported.

The arrested person, who was released from jail a few days ago, was transporting the heroin on the instructions of a man in Mahara prison.

The arrested man's wife has also been remanded in a heroin case, prison officials said.

Meanwhile, a security guard attached to a bank at Nattarampotha in the central hills was arrested while on duty by police on Sunday with 25 packets of ganja (cannabis), Balagolla police said.


Follow Emirates 24|7 on Google News.