Narrow escapes from Australia cyclone horror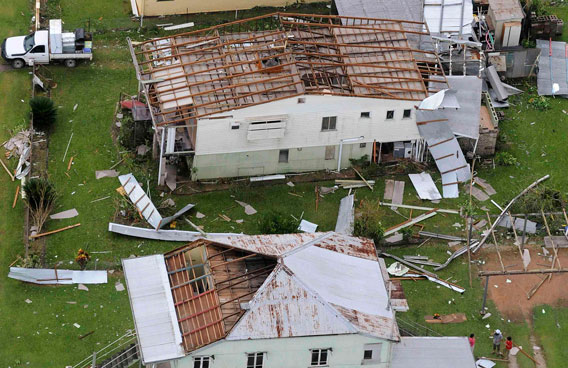 Red Cross worker Noelene Byrne made a fateful last-minute decision to abandon her makeshift evacuation centre as Cyclone Yasi's roaring winds and lashing rains closed in.
The next thing she knew the building was "one mangled heap," said Byrne.
"Had I left people there, there would have been loss of life."
"The destruction there is just heartbreaking. It's just the front wall of the hall that's standing, the rest is just one big scrap heap," she told ABC radio.
"It's just like weapons have come through, bombs have come through and destroyed everything."
Cairns, a popular tourist hub on the northeast coast, looked to have escaped the worst of Yasi, a category five storm that lashed the area with gusts of up to 300 kilometres (185 miles) an hour.
But the coastal town of Tully, emerging as hardest hit by the storm, has not been as lucky.
Queensland Premier Anna Bligh said emergency workers would have to "cut their way in" to get a real sense of the level of destruction, with preliminary estimates suggesting 90 percent of the main street was wrecked.
The town's hospital had its roof sheared away and one in three homes had suffered some sort of damage, Bligh said.
Dazed livestock roamed flooded streets and banana plantations lay flattened, while homes were without roofs, windows, even walls.
Some had been lifted from their foundations or split in two by the savage squalls, and huge trees lay across roads and power lines, torn whole from the ground with their knotted roots whipping in the wind.
"The flat from across the street is in our front yard and we can see other houses which have just been destroyed," said Tully resident Stephanie Grimaz, whose concrete home shook with the blasting winds' jet engine roar.
"There are sheets of iron everywhere, the streets are just full of debris."
Added Cassowary councillor Ross Sorbello: "It is just a scene of mass devastation. (2006 Cyclone) Larry was a boy compared to this."
Filthy surf churning with chunks of sand and earth snatched from the coast boiled up over roads, blocking access, while million-dollar yachts had smashed to pieces and washed into gardens south of Cardwell.
Exhausted residents who cowered in basements and bathrooms through a terrifying night of shrieking winds which shattered windows and snatched up whole roofs emerged to inspect the damage, stunned at the scenes before them.
"It looks like a bushfire has gone through - only difference is it's not black," said Chris Curnuck, who owns a holiday park at Mission Beach, where Yasi first made landfall shortly before midnight.
"You can just see straight through the rainforest to hills and houses that we've never seen before," Curnuck told the Sydney Morning Herald.
But with many expecting significant loss of life from what was being billed as Australia's "storm of the century", most are counting their blessings as they swap tales of bullets dodged and improbable escapes.
Scott Torrens, 37, a small-engine mechanic and business owner who lives in Mourilyan, a town near Innisfail, sat with his three children, wife and father-in-law as the storm tore away the roof, carport and back patio roof of his home.
"We were sitting at the kitchen table, we heard a ripping and off came the roof. Before we knew about it, it was gone. It happened that quick," Torrens told AFP.
"It was a long night. About 6:00 pm it started and it kept going until after 6:00 am this morning. I walked outside around about 6:00 am, it was still blowing quite a bit.
One 71-year-old grandmother, Ms French, described her terror as the walls of her bathroom began to collapse and gusting winds blew a sheet of iron into the kitchen windows, sending shards of glass throughout the house.
"It sounded like a freight train coming through my house," she said. "I'm not someone who gets scared easily, but I was just petrified.
Prime Minister Julia Gillard said it was a restless night for the entire nation, with many thinking of and praying for the one million residents in Yasi's path and waiting anxiously for news.
"But even as we worried about fellow Australians facing danger and very very frightening hours I think at the same time we knew that they were facing that danger with courage, and that they were well prepared," said Gillard.
Queensland, a mining, farming and tourism hotspot, is still battling to recover from floods that left about three-quarters of the sprawling state under water, even inundating large parts of its capital, Brisbane.
Follow Emirates 24|7 on Google News.