New luxury project on Dubai Canal with car lifts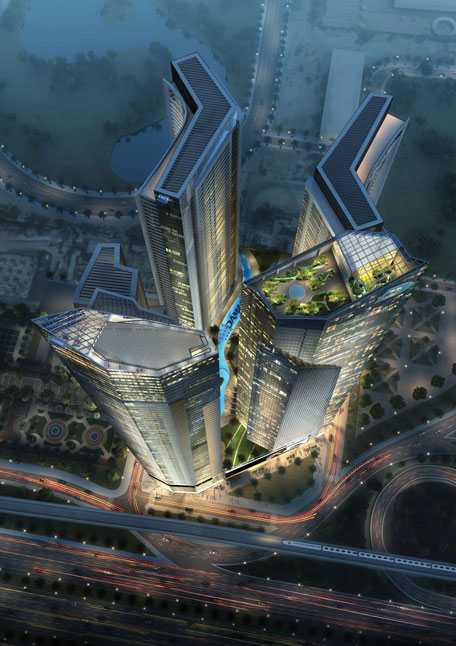 Damac Properties, a developer, has unveiled 'Aykon City', a six-tower project, to be located on the Dubai Canal project on Sheikh Zayed Road.
The project, a four million square feet development, comprises an 80-storey Aykon Hotel and Residences; a 63-storey Damac Maison Serviced Hotel Residences; a 60-storey apartment tower, a 65-storey office tower and two 30 floor ultra-luxury residential towers, featuring car lifts to each unit and direct views over Dubai Canal and Safa Park.
Part of the development will be 'Aykon Dare', which will offer guests to walk around the tower's roof at the 80th floor to view city's skyline.
Company Chairman Hussain Sajwani said: "We are delighted to announce a project of this scale in collaboration with Meraas Holding and on such a site in this premier location of the city."
The project sales value is Dh7.4 billion and construction is due to commence before this summer with a completion date of 2021.
In September 2015, Emirates 24|7 reported that Safa Park will become one of Dubai's prime residential communities, with its own crystal lagoon and man-made beach.
The master plan of Dubai Canal, a waterway that connects Business Bay with the Arabian Gulf, will include a four-tower complex – Crystal Lagoon Towers while the Gate Towers, a mixed-use tower, will serve as the gateway to the canal.
"We are building two out of the four Crystal Lagoon Towers (remaining two towers will be developed by Meraas Holding), which will have its own crystal lagoon and a man-made beach," Mohammad Al Khayat, Vice-President, Commercial and Free Zone, Meydan Group, had told this website.
Earlier this month, KPMG, a consulting and audit firm, said property prices in Dubai will be under pressure this year due to lower oil prices and strong US dollar, but the market will start to recover in 2017 as infrastructure work surrounding the Dubai Expo 2020 gets under way.
In January 2016, JLL, a real estate consultancy, however, said the UAE remains an attractive real estate market and some buyers, especially owner-occupiers and those investors taking a long-term perspective may well see value at current levels.
Moody's Investor Service pointed out in 2015 that the infrastructure spend by the government in the run-up to Expo 2020 will help sustain the property market. Besides, Hussain Nasser Lootah, Director-General of Dubai Municipality, has said population is expected to increase to five million by 2030, which will fuel demand for houses.
Follow Emirates 24|7 on Google News.