New Zealand battens down as big storm approaches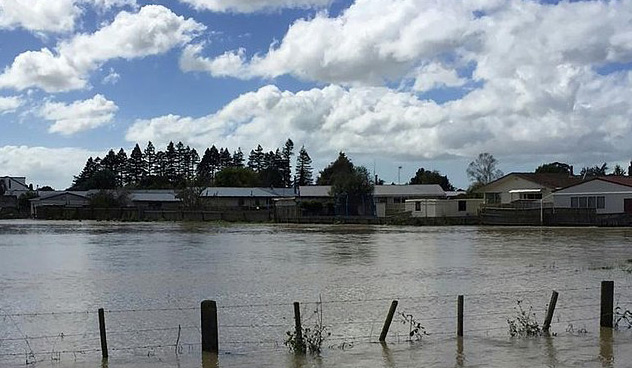 New Zealand was bracing Thursday for a storm that meteorologists warned could be the worst for almost 50 years, with extreme weather alerts across the entire North Island.
The tropical depression, the tail-end of ex-Cyclone Cook which hit New Caledonia this week, has already generated offshore winds of more than 170 kmh (105 mph).
The official Metservice said it was expected to make landfall overnight Thursday, generating five metre (16.5 foot) swells, torrential rain and gale force winds.
It warned the storm could be the most intense since ex-Cyclone Giselle in 1968, which swept a ferry onto rocks in Wellington Harbour, killing 53 people.
Cyclone Cook on Monday dumped heavy rain on New Caledonia, where four people were hurt when a tree fell on their car and power supplies were disrupted. Damage, however, was limited.
New Zealand emergency services pre-emptively evacuated some small coastal communities in the country's north, and the military was assisting relief efforts.
"This is a very significant event and is likely to produce widespread flooding, (land)slips and wind damage, including to powerlines, and may even lift roofs and bring down large trees," Metservice said.
Many areas of the North Island are already sodden after the remnants of Australia's Cyclone Debbie swept over last week and caused extensive flooding.
The situation is further complicated by the fact that the storm is bearing down as New Zealand prepares for the Easter long weekend, meaning roads are likely to be choked with holiday-makers.
The New Zealand Transport Agency urged motorists to stay off the roads if possible, saying conditions would be hazardous.
Air New Zealand cancelled all flights from Rotorua, Napier, Hamilton and Tauranga in the North Island, and said it expected disruptions at Nelson and Blenheim in the South Island.
The storm system is set to hit the Coromandel and Bay of Plenty regions of the North Island on Thursday night, before tracking south to Wellington early Friday.
Follow Emirates 24|7 on Google News.