Nineteen children among 46 dead in China landslide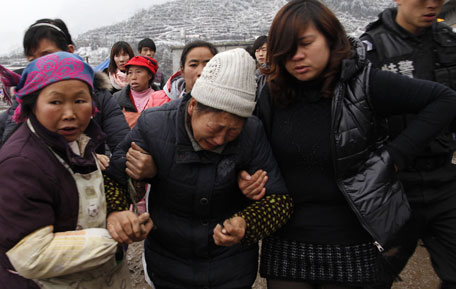 A desperate search for three people missing in a landslide in southwestern China ended on Saturday when their bodies were pulled from the mud, taking the final death toll to 46 -- many of them children.
Authorities in Yunnan province said that the last three bodies were recovered on Saturday morning after a night of frantic efforts by more than 1,000 rescue workers to locate the final missing residents of the remote village of Gaopo.
Xinhua said those buried included 27 adults and 19 children.
Two other people were hospitalised after the landslide struck on Friday morning, engulfing 16 homes, bringing a thunderous crash and throwing up thick clouds of dust, the official Xinhua news agency said.
Rescuers toiled into the night, braving bitter wind and freezing temperatures, using lamps and specialised detection devices in the hope of locating the missing, Xinhua said.
Soldiers, police, firefighters and mine rescue workers joined the search operation, using 20 excavators and trucks, it added.
Li Yongju, 50, said she heard the crash of the landslide while cleaning her yard and rushed with other villagers to the disaster site with shovels and hoes.
"We pulled out several people, one of whom was breathing weakly. But after a while, he died," Xinhua quoted Li as saying.
Zhou Benju, wept as she recounted hearing the rumble of the landslide.
"Several relatives of my parents -- my grandma, brother, uncle and my aunt's family members, died," she told the agency.
Hundreds of thousands of messages of support had been posted on microblogging site Sina Weibo.
"Pray for those who remain missing in the debris. Life is too fragile. We only wish miracles can happen!" read one post.
"It is a tragedy, a real tragedy!" wrote another on Sohu.com.
Photos on Yunnan Web, run by the Yunnan provincial government, showed rescuers in orange uniforms digging into wide swathes of mud against a backdrop of snow-covered, terraced hills.
A video posted on a Chinese social networking site appeared to show a group of villagers digging through thick mud and debris to uncover a body, which was carried away on a stretcher.
Xinhua said that the landslide had been triggered by 10 days of non-stop rain and snow, according to initial geologists' reports.
The area has experienced unusually low temperatures in recent weeks during what authorities have called China's coldest winter in 28 years.
The landslide spread over an area 120 metres (yards) long, 110 metres wide and 16 metres deep, according to authorities.
The Communist Party's top leaders Xi Jinping and Li Keqiang, along with Premier Wen Jiabao, ordered "all-out efforts to rescue victims", Xinhua said.
Yunnan province, which borders Myanmar, Thailand, Laos and Vietnam, is a relatively poor part of China where rural houses are often cheaply constructed.
Gaopo is in Zhenxiong county, in the northeast of Yunnan, a temperate province known for its tobacco industry and for being the home of Pu'er tea.
But its mountainous areas are prone to landslides and earthquakes. Two quakes in September -- one of magnitude 5.7 -- left 81 dead and hundreds injured.
A neighbouring county was hit by a landslide in October that killed 18 children, after one that killed 216 people in 1991, according to the United States Geological Survey.
An earthquake in neighbouring Sichuan province in 2008 claimed around 70,000 lives -- the worst natural disaster to hit China in three decades, with shoddy buildings blamed for the high toll.
Follow Emirates 24|7 on Google News.