No recovery hope: Man swallowed by sinkhole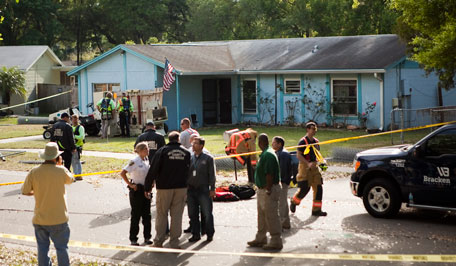 Florida rescue workers ended their efforts on Saturday to recover the body of a man who disappeared into a sinkhole that swallowed his bedroom while he slept and will demolish the suburban Tampa home due to its dangerous conditions, a rescue spokeswoman said.
Two nearby houses have been evacuated because the sinkhole has weakened the ground under them, and their residents probably will never be allowed inside again, said Jessica Damico of Hillsborough County Fire Rescue.
Jeff Bush, a 36-year-old landscaper, is presumed dead after vanishing into the sinkhole that opened suddenly beneath his room on Thursday night. Five other people in the house were getting ready for bed when they heard a loud crash and Jeff screaming.
His brother was rescued after jumping into the hole and furiously digging in an effort to find him.
Authorities used listening devices and cameras at the scene of the 30-foot (9-meter) wide hole in the ground but detected no signs of life.
"There's nothing compatible with life in this situation," Damico said. "There's no way of possible survival."
She said demolition of the home would begin early on Sunday.
"Our data has come back, and there is absolutely no way we can do any kind of recovery without endangering lives of workers," she said.
Jeff Bush's brother, 35-year-old Jeremy Bush, feared earlier on Saturday that his brother was lost forever. A small memorial of balloons and flowers for Jeff Bush had formed near the home on Saturday morning.
"I thank the Lord for not taking my daughter and the rest of my family," said Jeremy, who worked with his brother in landscaping.

'EVERYTHING WAS SINKING'
Jeremy himself was rescued from the sinkhole by the first responder to the emergency call, Douglas Duvall of the Hillsborough County Sheriff's Office. When Duvall entered Jeff Bush's bedroom, he saw a widening chasm but no sign of Jeff.
"The hole took the entire bedroom," said Duvall. "You could see the bedframe, the dresser, everything was sinking."
Norman Wicker, 48, the father of Jeremy's fiancée who also lived in the house, said "it sounded like a car ran into the back of the house."
Damico said the hole would be stabilised after the house is demolished to ensure the safety of the surrounding area. However, the residents of two neighboring homes who were forced to evacuate are unlikely to return, she said.
Soil samples showed the sinkhole had compromised the ground beneath the homes, engineers and public safety officials said on Saturday.
The residents of those houses were allowed 20 to 30 minutes in their homes on Saturday to gather belongings. Firefighters and residents formed an assembly line to move items out of the houses and into SUVs and trucks.
"They'll most likely never be allowed back in their houses," Damico said.
Before demolishing the home where Jeff Bush lived, workers will try to move part of it to a safe space on the sidewalk to let family members retrieve some heirlooms and personal belongings on Sunday, she said.
The risk of sinkholes is common in Florida due to the state's porous geological bedrock, according to the Florida Department of Environmental Protection.
As rainwater filters down into the ground, it dissolves the rock, causing erosion that can lead to underground caverns, which cause sinkholes when they collapse.

Follow Emirates 24|7 on Google News.