Obama tries to rescue 26-year-old held by Daesh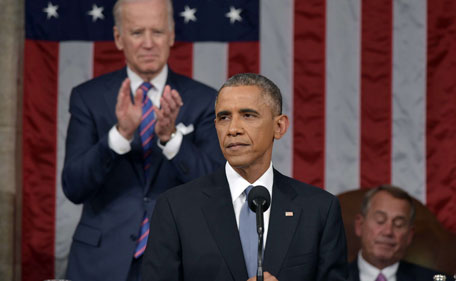 President Barack Obama on Sunday said the US is doing everything in its power to rescue a 26-year-old woman held by the Daesh, speaking in a wide-ranging interview also covering politics and a measles outbreak.

Obama's comments to NBC came a day after a Japanese journalist held by the militants was purportedly beheaded.

Obama said he has watched videos of hostages being beheaded. "Every morning I get a presidential daily briefing, and it gives me a pretty clear sense of the terrible stuff that's happening. And it's part of the reason why we have to be so vigilant and so aggressive in going after a vicious organization like Daesh," Obama said, using an acronym for the Islamic State group.

Three Americans — aid worker Peter Kassig and journalists James Foley and Steven Sotloff — were beheaded last year by the Islamic State group. A fourth American being held is a woman captured last year in Syria while working for aid groups. US officials have asked that she not be identified out of fears for her safety.

"Obviously this is something that is heart-breaking for the family, and we want to make sure we do anything we can to make sure that any American citizen is rescued from this situation," Obama said.

On the measles outbreak, traced back to California's Disneyland theme park, that has spread to more than 100 people, Obama said children who are not vaccinated are putting infants and other people who can't get vaccinations at risk. "You should get your kids vaccinated," Obama said.

Some parents continue to believe debunked research linking vaccines to autism.

Obama spoke to NBC's Savannah Guthrie before hosting a Super Bowl party at the White House for friends. His comments on terrorism and vaccinations were taped to air on Monday, but NBC released excerpts in advance.

The president ducked picking between possible 2016 Democratic presidential contenders Joe Biden and Hillary Rodham Clinton. "Love 'em both," Obama said with a smile.

He also wouldn't pick a favorite in the New England Patriots Super Bowl match-up against the Seattle Seahawks. "I think it's always wise for me not to choose a team because then I just alienate one big city," Obama said.
Follow Emirates 24|7 on Google News.