Oldest on Earth: Family says man dies aged 117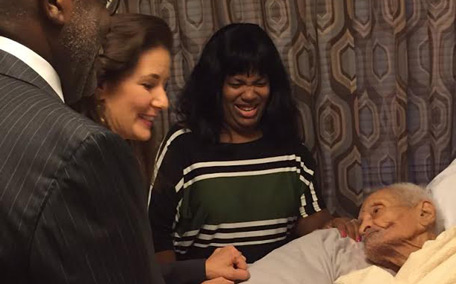 A California man whose family said he was 117 years old has died. The age would have likely made him the oldest person on earth when he died.
Andrew Hatch died quietly Monday at the Oakland home of daughter Delane Sims, who had been taking care of him there for the past two years, Sims said.
"No one stays on this earth forever," Sims told the Contra Costa Times, a newspaper that has chronicled Hatch since he turned 107. "But even 117 was not enough; I didn't want to say goodbye."
The lack of a birth certificate kept Hatch from being officially recognized as the oldest person alive by the organizations that acknowledge such things, though he had for years had driver's licenses and other official documents with his age on them. His family said he was born in Louisiana on October 7, 1898, in a time and place when birth certificates were rare for poor black children.
Guinness World Records currently recognizes 116-year-old Susannah Mushatt Jones of Brooklyn, New York, as the oldest person alive, a distinction she would now have even if Hatch had been recognized.
Jones became Guiness's official oldest person when 117-year-old Misao Okawa died in Tokyo in April.
Hatch said he never cared about the recognition.
"I don't like a fuss," he said at age 111 in 2009. "I'm still a youngster."
Hatch's family moved from Louisiana to Houston when he was a child. He travelled the world in the merchant marine as a young man.
He was jailed in his early 20s in Texas for what he said was the 'reckless eyeballing' of a pretty white woman. He said he escaped and lived for several years in Mexico, where he learned Spanish.
He had been living in Oakland since 1933.
Family members said he remained fiercely independent well past 110, living on his own in a senior apartment complex as recently as 2014.
"He had still been talking and interacting, right up until this last week," Sims said. "We were so blessed to have him with us these past couple of years, creating new memories every day."
Follow Emirates 24|7 on Google News.