One-third of all fire accidents involve cars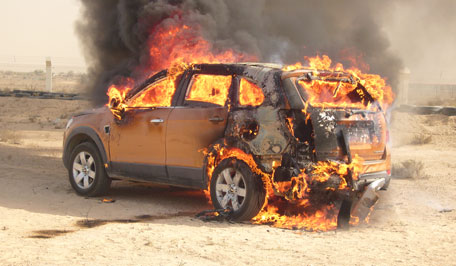 About one-third of all fire mishaps recorded in Dubai in the last five years has involved vehicles, according to a top official.

Colonel Fahad Al Mutawa, Director-General, Department of Criminal Evidence and Criminology, Dubai Police, said an analytical study carried out by expert Ahmed Mohammed, head of the department, revealed that one-third of fires recorded between 2008 and 2012 were car fires.

He explained that the statistics reveal several lives can be saved and mishaps avoided by educating public.

Ahmed Mohammed said 2012 recorded 682 fire cases, of which 228 involved cars. This was 33 per cent compared to 39 per cent the previous year when 618 fire cases were reported of which 242 involved cars.

Meanwhile, 2010 saw 38 per cent vehicle fires, when 248 cars were on blaze of the 650 fire cases reported. In 2009, a total of 660 cases were reported that included 232 cars – making it 35 per cent. And in 2008, 838 fire cases involved 273 vehicles marking 32 per cent.

The expert said most cases resulted because of faulty electrical circuits; poor vehicle maintenance and incompetent garage staff.

He said some motorists opt for garages that charge less, compromising on quality.

He said one worker at a garage who was repairing vehicles was actually a cook.

Mohammed urged motorists to have their vehicles repaired only at approved agencies, and ask for receipts that detail the parts replaced.

Amendments used to decorate cars and increase speed and sound can all lead to fire mishaps if not done correctly, he added.

However, some of the mishaps occur because of motorists smoking inside the car.
Follow Emirates 24|7 on Google News.