Orangutans burnt to death in Indonesia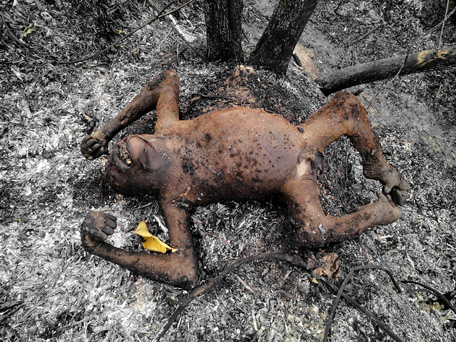 Three female orangutans, including a baby, were burnt to death in central Indonesia after being caught in a fire believed to have been started illegally to clear land for farming, an official and protection group said Thursday.
The charred bodies of the endangered Bornean orangutans, believed to be a mother and her two daughters, were discovered among fire-blackened remains of trees, their limbs outstretched and grimaces of pain on their faces.
They were found in Bontang, in the Indonesian part of Borneo island, close to Kutai National Park. Park officials began investigating after seeing pictures of the animals circulating on social media, said park staff member Dede Hidayat.
"We went to the scene about one kilometre (half a mile) outside the national park and we found the orangutans lying on the ground, badly burnt," she told AFP.
Wildlife authorities and police are now investigating the case. No one has been arrested yet, but if convicted, a perpetrator could face up to five years in jail for breaking wildlife protection laws.
Environmental group the Centre for Orangutan Protection (COP), which is helping authorities investigate the case, believe the fire was illegally started by a farmer to clear a small area of land for cultivation.
Slash-and-burn forest clearance, mostly to make way for palm oil plantations, is common across Indonesia and environmentalists say it has contributed to the destruction of many endangered species' natural habitats.
It was also blamed for causing huge forest fires that cloaked Southeast Asia in acrid smog last year. Many orangutans had to be rescued from the blazes.
COP, which runs an orangutan rescue centre in Borneo, carried out an autopsy on the apes after they were discovered last month. The group found they were all female, and aged around 20, 10, and less than one year, said COP founder Hardi Baktiantoro.
Protection group the International Union for Conservation of Nature classifies the Bornean orangutan as endangered.
Besides destruction of their habitats for agriculture, the primates face other threats. They are sometimes targeted by villagers who view them as pests, and caught by poachers who want to sell them as pets.
Follow Emirates 24|7 on Google News.