Over 600 fall ill on Royal Caribbean cruise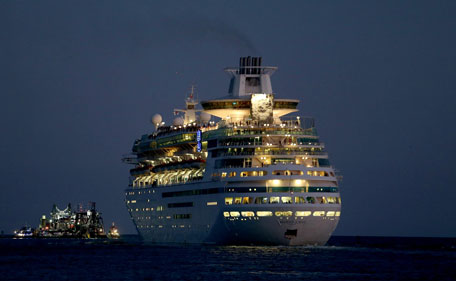 The number of passengers and crew who fell ill aboard a Royal Caribbean cruise ship climbed to more than 600 on Monday, many of them vomiting and suffering diarrhea.

The updated sick count aboard the Explorer of the Seas, which cut short its Caribbean cruise and was expected to dock in New Jersey on Wednesday, is more than double the 300 originally thought to have been felled by gastrointestinal illness, according to the US Centers for Disease Control and Prevention.

Among those sick were some of the onboard entertainers, which caused shows to be canceled, passengers said.

"I started with upset stomach and vomiting, and that lasted all night and into the morning," passenger Joseph Angelillo told CNN in a telephone interview.

Another ill passenger, Arnee Dodd of Connecticut, wrote on Twitter: "I've been sick and quarantined... Everything I touch goes in a biohazard bag."

Passenger Brittany Ann Schneider, who did not get sick, told Reuters that for two to four days she saw few people.

"I was not aware that people were sick until they made an announcement after they had canceled a walk they were supposed to have," she said in an email.

Port calls and activities in Haiti and St Maarten were canceled.

Sick passengers had to remain in their rooms until they were cleared to come outside, said Schneider, who is from Effort, Pennsylvania.

Schneider said she felt officials should have returned home at the height of the outbreak, rather than continuing on.

"The refund they are giving us is a little unacceptable," she said. "They are only refunding half of the trip and giving us a 50 percent off for (a) future cruise."

Norovirus suspected

Altogether, 595 passengers and 50 crew members fell ill aboard the ship, CDC spokeswoman Bernadette Burden said. The ship was carrying 3,050 passengers and a crew of 1,165.

The ship departed Cape Liberty Cruise Port in Bayonne, New Jersey, on Jan. 21 and will cut its planned 10-day cruise short by two days, returning to its home port on Wednesday, the cruise company said.

"Disruptions caused by the early wave of illness means that we were unable to deliver the vacation our guests were expecting," Royal Caribbean said in a statement issued on Sunday.

The CDC said Monday the cause of the sickness was unknown but that an environmental safety officer and an epidemiologist boarded the ship on Sunday in St. Thomas in the US Virgin Islands to determine the cause of the outbreak and the proper response.

Stool samples were gathered and sent to a CDC lab to determine what type of pathogen is to blame, Burden said.

"We likely will have a determination or identification of the pathogen later this week," she said. "Our team will be remaining on board the duration of the voyage."

The ship's crew increased cleaning and disinfection procedures and collected specimens from those who reported feeling ill following the outbreak, the CDC said.

"After consultation between our medical team and representatives of the US Centers for Disease Control and Prevention, we think the right thing to do is to bring our guests home early, and use the extra time to sanitize the ship even more thoroughly," Royal Caribbean said in the statement.

The cruise line said it believes the illnesses are consistent with norovirus, a highly contagious virus spread from an infected person, contaminated food or water, or by touching contaminated surfaces, according to the CDC.
Follow Emirates 24|7 on Google News.