'Pablo' brings out the best in Filipinos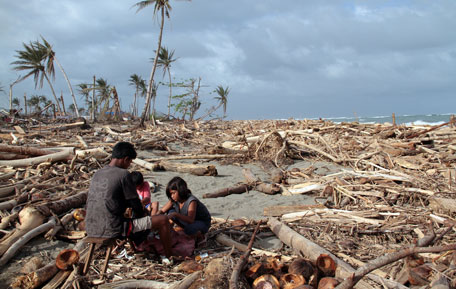 It's been said that the worst situations always bring out the best in people. Good deeds are replicated, especially when there's a good leader at the helm. And even amid devastation, kindness and generosity keep the Christian spirit of the Yuletide Season alive.

This couldn't be truer for the survivors of Typhoon Pablo (international codename: Bopha) in southern Philippines. And good deeds have multiplied many times, all for Davao Region, particularly Davao Oriental and Compostela Valley, the two provinces hit the hardest by the super typhoon on December 4.

Besides the government announcing an allotted amount of between 8 billion and 10 billion pesos (Dh714-893m) more for relief and rehabilitation efforts, more good Samaritans have come forward to give cash and relief goods for the storm-ravaged areas on the country's second-largest island of Mindanao.

Fast Logistics Chairman Victor Chiongbian, for instance, has pledged 1 million pesos (Dh89,261) toward the fund created by the MVP Group of Companies for 'Pablo' victims.

"He said he was 'touched' by what the MVP Group was doing, as published in the papers today," Michael Toledo, Senior Vice President for Corporate Affairs at Philex Mining Corp., said on Monday.

MVP stands for the initials of Manuel V. Pangilinan, who chairs the companies under the group, whose parent company is the Hong Kong-based First Pacific Company Limited.

Philex Mining donated 10 million pesos (Dh892,566) during the December 10 'Tulong Kapatid MVP Telethon' aired on TV5. The company's employees and supporters, on the other hand, were able to raise about 1 million pesos more for the fund.

A collective fund-raising campaign by companies under the MVP Group to help 'Pablo' victims, 'Tulong Kapatid' (Brotherly Help) donated about 88 million pesos (Dh7.85m) out of the total 110 million pesos (Dh9.82m) raised during the six-hour telethon. The rest of the amount came from cash donations called in or sent through text messages (using Smart and Sun cellular phones) by viewers and supporters of TV5. Smart, Sun, and TV5 are also part of the MVP Group.

Mr Toledo said that First Pacific and its chairman, Antonio Salim, and Mr Pangilinan together chipped in 35 million pesos (Dh3.12m) out of the money raised by the MVP Group alone during the telethon. He added that more donations in cash and in kind have been pouring in from individuals and supporters of the group.

Given the extent of damage caused by 'Pablo', the cost of relief and rehabilitation efforts could go beyond 10 billion pesos, according to Budget Secretary Florencio Abad, who added that the additional money would be taken from the government's calamity and quick response funds.

Civil defence officials said the death toll from 'Pablo' has reached 1,067, with another 800 missing, while over 60,000 people have been left homeless.

Mr Abad said the Aquino administration has so far spent 4 billion pesos (Dh357m) for the affected region, whose damaged agriculture and infrastructure are estimated to have reached 34.3 billion pesos (Dh3.1bn). He also told reporters over the weekend that reconstruction of the area would take more time, as resources are now focused on rescue-and-relief operations.

"The long-term rehabilitation is where we can also come in," said Mr Toledo, who is also spokesman of the MVP Group, stressing that the group's head, Mr Pangilinan, has conceptualised a holistic approach to giving aid in times of disaster.

Mr Toledo added that the MVP Group would want to not only distribute relief goods to victims of natural and man-made disasters, but also to run soup kitchens, provide medical aid, build shelter for the homeless, reconstruct damaged infrastructure, and create livelihood for those who have lost their jobs.

"With the group's diversified presence in the Philippines' business environment—from energy and water to telecommunications and mining to healthcare and education—we have the resources and are in a good position to help the country and fellow Filipinos in times of need," he stressed.

Philex Mining, in fact, was one of the private-sector entities that sent help to Davao Region right after 'Pablo' wreaked havoc on the area. It deployed an elite team of 12 miners to Compostela Valley, to help in the search and rescue of typhoon victims.

"Our miners, whose work involves the recovery of ore from under the ground, are well-trained in the search-and-rescue operation of victims buried in rubble, such as the one happening now in Compostela Valley," Philex Mining President and Chief Operating Officer Eulalio Austin, Jr. said in a statement on December 11.

Government officials in Davao Region said that more individuals, some of whom are Filipinos working in the Middle East and other parts of the world, have sent help in the form of cash or relief goods.

No wonder the gifts for the people of Compostela Valley and Davao Oriental have been taken care of not only by their own family, friends, and relatives, but also by complete strangers who had brought them food, bottled water, medicines, clothing, and other basic needs.

These were soldiers, who first came to the rescue of the victims, braving floods and fallen trees; celebrities (such as boxing champ and Sarangani Congressman Manny Pacquiao and actress and World Food Programme Ambassador of Goodwill KC Concepcion) and public officials who distributed relief goods; non-government organisations and international civic groups that provided medical aid; and other individuals and good Samaritans who did their part to assuage the suffering among the survivors of 'Pablo'.
Follow Emirates 24|7 on Google News.