Pakistan's Imran Khan declines Taliban talks role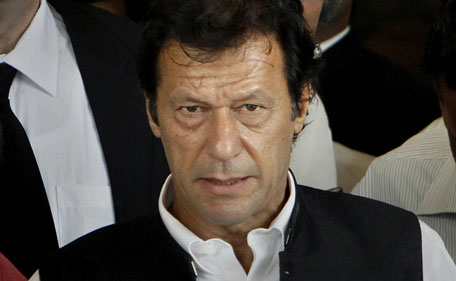 The party of Pakistani cricketer-turned-politician Imran Khan said Monday they "appreciated" a Taliban request for him to represent them in peace talks with the government, but declined the offer.

Two teams, nominated by the government and Tehreek-e-Taliban Pakistan (TTP), will hold a preliminary meeting in Islamabad on Tuesday afternoon to chart a "roadmap" for talks.

Prime Minister Nawaz Sharif caused surprise last week by naming a team to begin dialogue with the militants, who have been waging a violent insurgency since 2007.

Following a bloody start to the year, with more than 110 people killed in militant attacks in January, many had been anticipating a military offensive against TTP strongholds in Pakistan's tribal areas.

The TTP named Khan as one of its negotiators on Saturday, along with several hardline religious figures including Maulana Sami-ul-Haq, known as the "Father of the Taliban".

Khan, the leader of the Pakistan Tehreek-e-Insaaf (PTI) party, has been a vocal supporter of negotiating with the insurgents.

But PTI spokeswoman Shireen Mazari told AFP on Monday that because a senior party figure, Rustam Shah Mohmand, was already on the government team, Khan's presence was not needed.

"The core committee of Pakistan Tehreek-e-Insaaf appreciated Tehreek-e-Taliban Pakistan offer to our chairman Imran Khan to become part of their committee," Mazari said.

Haq said his team would meet its government counterparts on Tuesday and afterwards discuss with the TTP leadership how to proceed.

"We expect a ceasefire from both the government and the Taliban -- it's mandatory for the peace process," said Haq.

He told AFP that the TTP, which has repeatedly said it wants Islamic sharia law to be imposed throughout Pakistan, had not yet put forward any formal demands for the talks.

"We will try to complete the negotiations in weeks instead of months," he said.

Despite the moves towards peace talks, a new attack against the Pakistan military was reported on Monday.

Two soldiers were wounded in South Waziristan tribal district, along the Afghan border, when a roadside bomb struck a military convoy, a security official told AFP on condition of anonymity. The official blamed militants for the attack.

On Sunday a grenade attack in a cinema in the northwestern city of Peshawar, which killed four people, raised fresh doubts about the viability of any peace deal with the TTP, a fractious coalition of militant groups.
Follow Emirates 24|7 on Google News.