Pakistan's Malala leaves hospital to await surgery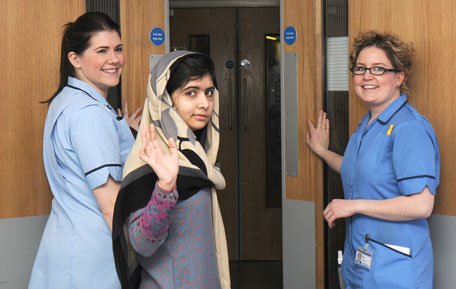 Malala Yousafzai, the Pakistani schoolgirl shot by the Taliban for campaigning for girls' education, has been temporarily discharged while she awaits surgery, the British hospital treating her said Friday.
Queen Elizabeth Hospital in Birmingham, west-central England, said it was delighted with the 15-year-old's progress and that she would stay with her family nearby before undergoing reconstructive surgery on her skull.
"Malala Yousafzai was discharged from Queen Elizabeth Hospital Birmingham as an inpatient yesterday (Thursday) to continue her rehabilitation at her family's temporary home in the West Midlands," the hospital said in a statement.
"The 15-year-old, who was shot by the Taliban for campaigning for girls' education, is well enough to be treated by the hospital as an outpatient for the next few weeks."
In an attack that shocked the world, Malala was shot in the head by a Taliban hitman as her school bus made its way through the town of Mingora in Pakistan's northwestern Swat Valley in October.
The bullet grazed her brain, coming within centimetres of killing her, travelling through her head and neck before lodging in her left shoulder.
She was airlifted to the specialist Queen Elizabeth Hospital days after the attack but had to fight off an infection in the path of the bullet and recover her strength before surgery.
"She is still due to be readmitted in late January or early February to undergo cranial reconstructive surgery as part of her long-term recovery," the hospital said.
"In the meantime she will visit the hospital regularly to attend clinical appointments."
Video released by the hospital showed Malala wearing a grey dress and cream-patterned headscarf as she walked out of her ward, waving to staff as a nurse led her by the hand.
Photographs showed her hugging a nurse at the doors.
The hospital said Malala had been regularly leaving the hospital over the past couple of weeks to visit her family at home.
"Following discussions with Malala and her medical team, we decided that she would benefit from being at home with her parents and two brothers," the hospital's medical director Dave Rosser said.
He added that medics would be visiting Malala at home ahead of her return to hospital for surgery.
"Malala is a strong young woman and has worked hard with the people caring for her to make excellent progress in her recovery," Rosser said.
British Foreign Secretary William Hague tweeted: "Delighted Malala is well enough to leave hospital. The future Pakistan she dreams of is one we must support."
In Washington, State Department spokeswoman Victoria Nuland told reporters: "Our thoughts and prayers remain with her and with the family. Her bravery and courage are just an inspiration for all of us."
Malala's father Ziauddin Yousafzai has accepted a three-year role as education attache at Pakistan's consulate in Birmingham, making it more likely that the family will remain in Britain long-term.
His daughter first rose to prominence aged just 11 with a blog for the BBC's Urdu-language service charting her life in Swat under the Taliban, whose two-year reign of terror supposedly came to an end there with an army operation in 2009.
Her attempted murder has sparked calls for her to be awarded the Nobel Peace Prize.
Pakistan is paying for her treatment at the Queen Elizabeth Hospital, which specialises in treating British soldiers wounded in Afghanistan.
Follow Emirates 24|7 on Google News.