Pakistan's new PM proposes dialogue with India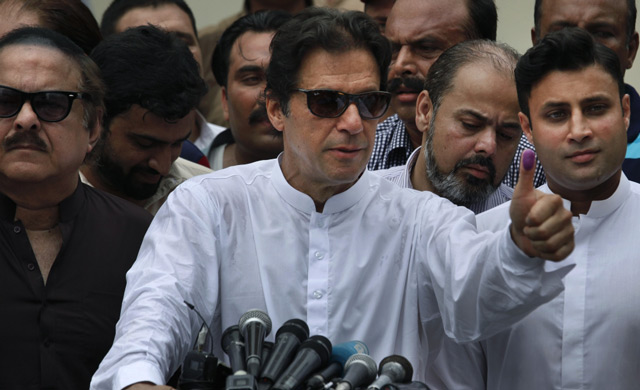 Pakistan's newly-elected prime minister on Tuesday offered to start a dialogue with India to resolve long-running disputes between the two nuclear-armed rivals, including over the Kashmir region.
Imran Khan, a former cricket star who was sworn in last week, tweeted that the two countries should focus on alleviating poverty in South Asia by pursuing new trade agreements.
Indian Prime Minister Narendra Modi congratulated Khan after his swearing-in and expressed a desire for talks.
Khan's inauguration was attended by Navjot Singh Sidhu, an Indian former cricket player and longtime friend, who faced criticism from hard-line nationalists upon his return to India. Khan thanked Sidhu, calling him an "ambassador of peace," and said his detractors were doing a "disservice" to peace in the subcontinent.
"Without peace our people cannot progress" Khan said.
India and Pakistan have fought three wars since gaining independence from Britain in 1947, two of them over Kashmir, a Himalayan region split between Indian and Pakistani control and claimed by both in its entirety.
Pakistan's new foreign minister, Shah Mahmood Qureshi, said Tuesday that a cease-fire along the Line of Control dividing the two zones was in the interest of both countries. India and Pakistan signed a cease-fire agreement in 2003, but the two regularly exchange fire across the Line of Control, killing and wounding civilians on both sides. Each accuses the other of violating the truce.
Qureshi also acknowledged the long history of strained relations between Pakistan and the United States, saying Pakistan would insist on relations based on "respect and trust."
Follow Emirates 24|7 on Google News.