Pakistan stops execution of man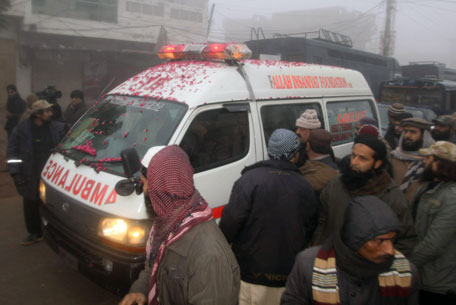 Pakistan has stopped the hanging of a man convicted of murder as a teenager, an official said Tuesday, following an outcry from rights groups after the country resumed executions in the wake of a Taliban massacre at an army school.

Shafqat Hussain, 23, was convicted of the 2004 murder of a seven-year-old boy when he was just 15-years-old and was working as a watchman in Karachi, Pakistan's sprawling and violent port metropolis.

He was one of seven men on death row scheduled to be executed in the coming weeks after the government ended its moratorium on the death penalty in terrorism cases following the December attack on an army school in Peshawar that claimed 150 lives, most of them schoolchildren.

Rights groups and some members of parliament have campaigned in support of Hussain and Tuesday interior minister Chaudhry Nisar called off the execution that was scheduled for January 14 and ordered an inquiry.

"The minister of interior has ordered an inquiry into the case of Shafqat Hussain and stopped the execution," a source at interior ministry told AFP.

"Some NGOs and MPs had contacted the minister and apprised him that it as not a terrorism related case after which the minister ordered to stop the execution of Shafqat Hussain," the official said.

Hussain was convicted by an anti-terrorism court -- not in a juvenile court despite his age -- and handed the death penalty.

The case went to appeal but Hussain's age was not seen as any reason to overturn the sentence, despite the fact that the death penalty cannot be imposed on minors in Pakistan, according to Amnesty International.

Pakistani rights group Justice Project Pakistan said it was optimistic about the development.

"We are optimistic that the inquiry announced by the Interior Minister will take all relevant parties on board and lead to him eventually going home to his old parents," Sarah Belal, executive director of the group, said in a statement.

Seven convicted militants have been hanged so far since the de facto ban on capital punishment ended.

Six of those executed were found guilty of trying to assassinate then-military dictator Musharraf in Rawalpindi in 2003 and the seventh was sentenced in connection with a 2009 attack on the army headquarters.

Pakistani officials have said they plan to hang 500 convicts in the coming weeks, drawing protest from international human rights campaigners.

The United Nations, European Union, Amnesty International and Human Rights Watch have called on Pakistan to re-impose its moratorium on capital punishment.

Rights campaigners say Pakistan overuses its anti-terror laws and courts to prosecute ordinary crimes.
Follow Emirates 24|7 on Google News.