Paris 2024 Games is 'Made for Sharing'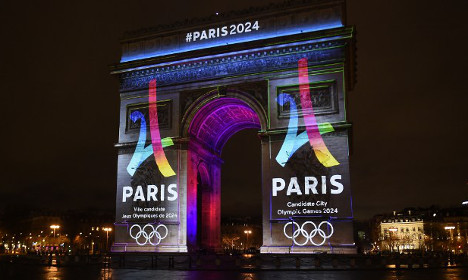 The Paris 2024 bid team have adopted the slogan 'Made for Sharing', a message which was beamed onto the emblematic Eiffel Tower on Friday hours after an attack on a soldier in the French capital.
The unveiling of the bid slogan came after a man armed with a machete attacked a soldier before being shot at the Louvre Museum.
French Prime Minister Bernard Cazeneuve told international media that the swift response by security services to the attack proved Paris could provide a secure Olympic environment.
"We have been hit very hard and have learned to adapt, as we proved during Euro 2016, so it will be during the 2024 Games," he said.
Paris Mayor Anne Hidalgo also played the security card insisting there would be "security of the very highest level".
Speaking in English and Spanish, Hidalgo sent a message to sports fans everywhere.
"Paris is a truly global city, a European capital, a city which belongs to the world," she said.
Friday's security scare at the Louvre, popular with millions of tourists every year, was the latest attack on the City of Light.
In January 2015, 17 people died in three days of bloodshed when jihadist gunmen rampaged through the Charlie Hebdo satirical newspaper and a Jewish supermarket.
Ten months later, gunmen and suicide bombers from DAESH armed group attacked bars, restaurants, a concert hall and the national stadium, killing 130 people.
And last July, a Tunisian extremist rammed a lorry through crowds celebrating Bastille Day in Nice on France's south coast, crushing 86 people to death.
The country has been under a state of emergency since November 2015, but staged the 2016 European football championships without incident.
"The terrorist risk is everywhere in the world," said Cazeneuve.
"Other countries have been attacked, the United States as well as ourselves. It's because we have been hit that we have adapted."
As he spoke the 'Made For Sharing' message lit up the Eiffel Tower which sparkled in the red, white and blue of the French Tricolor.
Paris bid team figurehead and former Olympic canoeist Tony Estanguet said an English language slogan was chosen instead of French "to give a universal character to a French project".
He added: "We want to share the passion for the Games with a massive celebration."
"We want a sharing Games for a sharing world," Estanguet said.
The Paris campaign launch revealed plans for a plan to offer spectators cut-priced tickets and house athletes near venues.
The gloves came off in the battle to host the Games as Los Angeles, Paris and Budapest delivered their third and final dossiers to the International Olympic Committee.
Paris hosted the 1900 and 1924 Games, and missed out to London for the 2012 Olympics.
The 2024 hosts will be announced at an IOC Congress in Lima on September 13.
Follow Emirates 24|7 on Google News.