Passenger: airline was warned about disruptive man at gate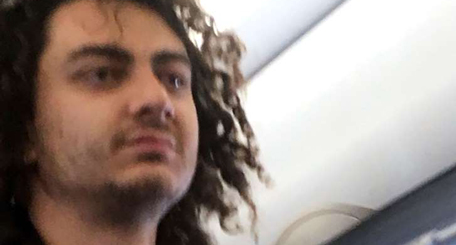 Before a flight from Los Angeles to Honolulu took off carrying a passenger whose inflight behavior prompted bomb-threat procedures and military fighter jets to escort the plane, passengers complained to American Airlines workers that the man was scaring them, a woman who was on the flight said Wednesday.
Anil Uskanli, 25, of Turkey, tried to get to the front of the plane during last week's flight and crewmembers feared his laptop contained explosives, said a criminal complaint charging him with interfering with a flight crew.
Jaime Reznick, of Los Angeles, said when she arrived at the gate Friday morning, there was a curly haired man clad in a black leather jacket who was "being really freaky." He was laughing to himself and staring down passengers, she said.
When the airline announced first-class boarding, he laughed and ran to the employee collecting boarding passes, she said. He was allowed to board the plane first even though he was assigned a seat in economy, she said: "They didn't stop him at all."
"We're all really worried about him being on the plane," she said she told the employee. "He's a threat. He's acting weird. He's scaring us."
None of the passengers interviewed by the AP after the flight landed in Honolulu Friday said they complained about being afraid of him before the plane took off. Some passengers told the FBI that he acted strangely during the flight, including talking about being a famous actor and pounding on walls when a passenger entered a restroom he left unlocked.
American spokesman Ross Feinstein said the airline will look into Reznick's allegations.
Reznick said that after the flight landed, she wrote to American to complain that allowing Uskanli to fly put people in danger.
"We understand the situation may have caused you discomfort; and for that, we apologize," the airline said in a response giving her 10,000 bonus miles.
Uskanli raised other red flags while still at Los Angeles International Airport, but experts say a lack of communication and an airline's hesitancy to be caught on video booting a passenger played a role in allowing him to fly.
He had purchased a ticket at an airline counter in the middle of the night with no luggage and had been arrested after opening a door to a restricted airfield at the airport. Airport police did not notify the airline, but they said it isn't common practice.
Because of the prior incident involving the restricted area and because he was determined to be under the influence of drugs or alcohol, crewmembers took Uskanli to the plane in a wheelchair, the FBI complaint said.
He was not in a wheelchair at the gate, Reznick said.
FBI spokesman Arnold Laanui declined to comment on the discrepancy. "Police, media and eye witness accounts often conflict," he said in an email. "This is not unusual, especially in the aftermath of chaotic, traumatic and/or frightening situations."
Midair, Uskanli inspired fear among flight attendants when he walked toward the front of the plane with his head covered and clutching a laptop. Flight attendants blocked him from advancing and feared his laptop contained explosives, according to the complaint.
No explosives were found. A federal judge in Honolulu on Monday ordered that Uskanli undergo a mental competency evaluation after his federal public defender requested it.
Follow Emirates 24|7 on Google News.