People rush to buy lottery tickets for record $1.3 billion jackpot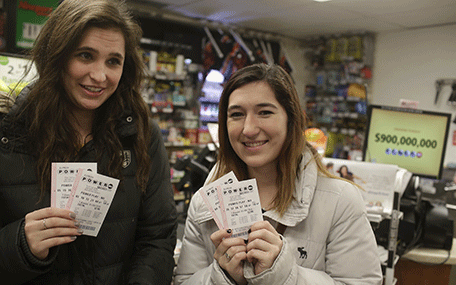 Americans raced to buy lottery tickets Monday in the hope of snagging the largest jackpot in US history, a staggering $1.3 billion (Dh4.77 billion) after back-to-back draws failed to net an overall winner.

Saturday's winning numbers in the Powerball were 32-16-19-57-34 and 13, but while 25 people matched the first five numbers -- winning $1 million -- no one claimed the $950 million jackpot, rolling it over to a $1.3 billion.

In Midtown Manhattan, Shailesh Patel, 40, has done a roaring trade in ticket sales and expects a deluge of extra customers before the next draw on Wednesday night.

"People spend money like $10, $20, some people $50. It depends," he tells AFP as customers bustle in and out of his bodega to sign up for their lucky numbers -- few content with buying just one ticket.

The excitement drove Patel to splurge $10 on the Powerball last week and he says he'll play again this week.

"I need to buy a little house, I'd spend a little on my family," he says.

The Multi-State Lottery Association that organizes the game sought to drive up sales by releasing statistics on the most common Powerball numbers, the most overdue numbers and those drawn the least.

The three most overdue numbers? One, three and 35, the lottery tweeted.

The draw, which takes place each Wednesday and Saturday at 10:59 pm (0359 GMT), selects five white balls from a drum containing 69 balls, and one red one from a drum with 26.

To win the jackpot, a ticket holder has to match all the numbers on the six balls selected. The winner can choose to be paid the full jackpot in annual installments over 29 years -- or take a lower one-off payment in cash.

The cash payment for a single jackpot winner on Wednesday would rise to $806 million before taxes, according to the Powerball site.

Tonya Smith, 45, who is studying for her high school diploma after dropping out as a teenager to raise her siblings, is dreaming big.

- Hoping and praying -

"It's enormous, it's unprecedented. Wow. It's huge, it's huge. It makes a player that doesn't play, play," the Brooklynite told AFP.

She's splashing $10 on tickets for Wednesday's draw and says she is urging all her friends and family to take part.

"I'm just hoping and praying like everybody else," she says.

She wants to donate part of her winnings to charity, take care of her family and travel the world -- Australia, Hawaii, Miami, Barbados and Dubai are on her bucket list.

She's scared of flying but jokes that winning the jackpot might help overcome her phobia. "I'm willing to be more adventurous," she laughs.

The previous US jackpot record of $656 million, in March 30, 2012, was scooped by three winners from North Carolina, Puerto Rico and Texas.

Gloria Mackenzie, 84, from Florida holds the record for winning the largest single Powerball jackpot, $590.5 million, on May 18, 2013.

Frankie Melendez, who works for a copying and scan center in Manhattan, says he started buying Powerball tickets when the jackpot passed $500 million last week.

"It's crazy," he says. "I'll probably get a card, which is $10."

He also plans to take care of his family -- his six brothers and sisters -- and his grandmother and grandfather who are still alive.

"Oh man listen, my whole family's going to get money," he said. "If I win, I'll share it! Not all of it! But I'll share half of it at least!"

Powerball is played in 44 states, the District of Columbia, Puerto Rico and the US Virgin Islands.

The world's richest lottery is Spain's annual Christmas "El Gordo," which in 2015 handed out 2.2 billion euros ($2.4 billion) but which capped individual wins at 400,000 euros and handed out thousands of smaller prizes.


Follow Emirates 24|7 on Google News.