Aquino warns sultan in Malaysia standoff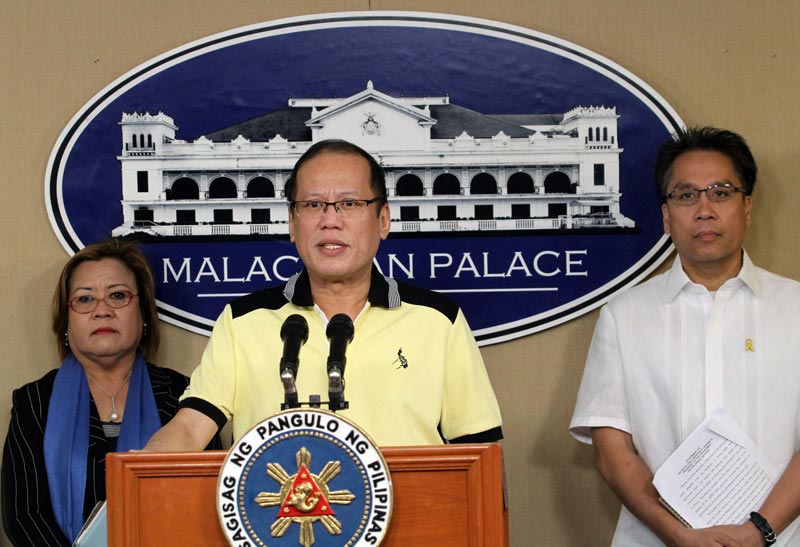 Philippine President Benigno Aquino warned a sultan on Tuesday he would face the "full force of the law" unless he withdrew his gunmen from Malaysia, but the elderly ruler remained defiant.

Dozens of followers of the little-known Sultan of Sulu have been facing off with Malaysian security forces for two weeks, after they sailed from their remote southern Philippine island homes to stake a territorial claim.

With the incident causing increasing embarrassment to the Philippine government, Aquino made a nationally televised address on Tuesday to try to pressure the sultan into bringing his gunmen back from Malaysia's Sabah state.

"If you choose not to cooperate, the full force of the laws of the state will be used to achieve justice for all who have been put in harm's way," Aquino said.

"This is a situation that cannot persist. If you are truly the leader of your people, you should be one with us in ordering your followers to return home peacefully."

Aquino, flanked by his interior and justice secretaries, also warned the sultan that he may have broken laws, including one banning citizens from inciting war that carries a maximum prison term of 12 years.

But the 74-year-old sultan, Jamalul Kiram III, showed no signs of buckling, calling a press conference from his home in a poor Muslim enclave of Manila to insist the standoff would continue unless his demands were met.

"As far as we are concerned we have not committed (a) crime," Kiram said, adding his followers cornered in a fishing village in Sabah on Borneo island would not initiate any violence with the Malaysian security forces.

"But we are prepared to defend our lives and aspirations."

Kiram says he is the head of the Islamic Sultanate of Sulu, which once controlled parts of Borneo including the site of the stand-off, as well as southern Philippine islands.

The sultanate leased northern Borneo to Europeans in the 1870s. While the sultanate's authority gradually faded as Western colonial powers exerted their influence over the region, it continued to receive lease payments for Sabah.

The former British colony became part of the federation of Malaysia when it was formed in 1963.

Kiram and his family, as heirs to the sultanate, still receive nominal annual compensation from Malaysia -- the equivalent of about $1,700 -- and they want more money.

Kiram said on Tuesday the gunmen would only lay down their arms if the Philippines and Malaysia agreed to negotiate terms for joint development of Sabah.

Pressed on details, Kiram's adviser Abraham Idjirani told reporters the sultanate should receive as royalties 50 per cent of proceeds from Sabah's economic growth -- potentially many millions of dollars.

But Kiram also said his followers wanted to remain in Sabah even if a financial deal was struck. "(They want to) peacefully settle in Sabah, which is our homeland," he said.

Aquino said the sultan had 180 followers in Sabah, up to 30 of whom were armed. But Kiram said he had 235 members of the "Royal Armed Forces of Sultan of Sulu and North Borneo" there.

Malaysian authorities have sought to ensure tensions do not escalate at the site of the standoff, surrounding the gunmen but keeping their distance.

However Aquino cautioned the sultan that he could not expect to test the Malaysian government's patience indefinitely without repercussions.

"The avenue of peaceful and open dialogue is still available to us... we have not yet reached the point of no return, but we are fast approaching that point," Aquino said.


Follow Emirates 24|7 on Google News.