Kim, Maja figure in real catfight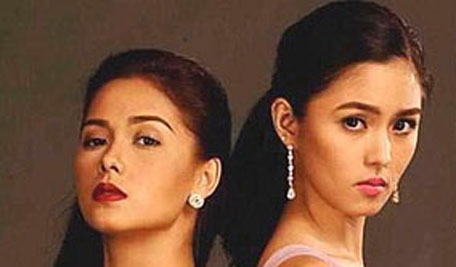 Call it art imitating life. Or, better still, real life venting off on reel life.

It was a catfight, folks, on the set of 'Ina, Kapatid, Anak' (Mother, Sibling, Child), where Kim Chiu and Maja Salvador did a violent scene—and what a violent scene it was!

Insiders at the ABS-CBN drama series couldn't believe what they saw, thus they couldn't stop their tongues from wagging after that shooting last Wednesday.

They swore that the two actresses, who used to be BFsF [best friends forever] before Gerald Anderson came into the picture, weren't just acting in their fight scene but really fighting with each other.

They said that Salvador sustained contusions while Chiu broke into tears after their slapping-and-pulling-hair scene (if we are to go by the script). Chiu then huffed and puffed all the way to her dressing room, and walked out of the set after a few minutes.

"I will neither confirm nor deny that," said one insider, when told by a scribe from the tabloid Pilipino Mirror that he was on record.

Star Magic, the talent management arm of ABS-CBN, is now doing an investigation on what really happened last Wednesday. It did not say if it would issue an official statement afterwards.

Chiu and Salvador have hardly seen eye-to-eye since it was revealed that the former has been having an affair with Anderson since November last year. Chiu is Anderson's former girlfriend.

While they had been cited for their professionalism—as they continued doing their job even in scenes and promotional events involving only the two of them—it was obvious that there was a deep-seated animosity between them.

Three Sundays ago, for instance, the two did a dance number on 'ASAP', a musical variety show, where they had to be close to each other. Viewers said it was obvious they smiled to the camera but had been avoiding each other's gaze.

They were also given separate dressing rooms when Anderson admitted around last month that he was indeed pursuing Salvador.

Two of today's hottest young stars, the BFsF status between Chiu and Salvador was broken when Anderson, arguable the entertainment industry's biggest matinee idol and formerly 'Pinoy Big Brother' housemate, left Chiu for Salvador.

Chiu has been terribly hurt, as Salvador used to be her confidante when it came to her problems concerning Anderson.

In 'Ina, Kapatid, Anak', Salvador plays Margaux Marasigan while Chiu is Celyn Buenaventura. While leading separate and opposite lives, they end up studying in the same school, where Margaux carries on a forbidden love with her boyfriend. Later on it is revealed that Margaux is actually Celyn's twin sister.
Follow Emirates 24|7 on Google News.