Malaysia launches attack to clear out militants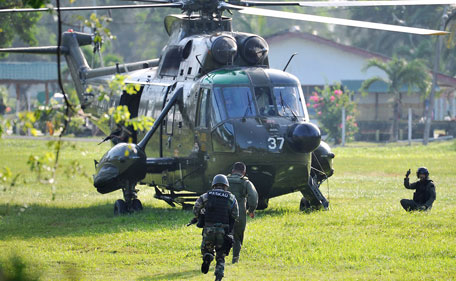 Malaysian fighter jets launched air strikes on a defiant group of Filipino intruders Tuesday as security forces sought to end a three-week incursion that has already killed 27 people.

Prime Minister Najib Razak said the government had no choice but to quell Malaysia's worst security crisis in years, sparked when militants invaded to claim the Malaysian state of Sabah for a self-styled Philippine sultan.

"The longer this invasion lasts, it is clear to the authorities that the invaders do not intend to leave Sabah," Najib said, adding that negotiations had gone nowhere.

"The government must take action to safeguard the dignity and sovereignty of the country as required by the people."

The intruders have been holed up in the village of Tanduo since they landed by boat on February 12 from nearby Philippine islands in a bizarre incursion that has exposed Malaysian security lapses.

At least two fighter jets roared over the standoff site from early morning, launching an air bombardment, a Malaysian reporter positioned about 20 kilometres (12 miles) away told AFP by phone.

"There was a series of explosions in Tanduo. Intense bombing lasted for about half an hour," followed by a series of sporadic blasts, he said, asking not to be named.

An AFP reporter at a police roadblock about 30 kilometres from the assault saw heavy military helicopters flying toward Tanduo. Six ambulances also were seen speeding toward the site.

Three military trucks filled with dozens of soldiers also moved in the direction of Tanduo, located amid vast oil palm plantations.

Philippine President Benigno Aquino's spokesman said Manila had done all it could to avoid a violent end in Sabah for the followers of 74-year-old Manila-based Islamic leader, Jamalul Kiram III.

"We've done everything we could to prevent this, but in the end, Kiram's people chose this path," spokesman Ricky Carandang said.

After a lengthy standoff, violence erupted on Friday with a shootout between Malaysian security forces and militants in the village that left 12 Filipinos and two police officers dead.

Another gun battle Saturday in the town of Semporna, a long distance from the standoff, left six police and six gunmen dead, raising fears of a wider guerrilla infiltration from the Philippines.

One gunman was beaten to death in Semporna on Saturday by villagers, police have said.

Najib had ordered a doubling of security forces in Sabah after the weekend violence.

Followers of Kiram, the self-proclaimed heir to the Philippine sultanate of Sulu, have said the gunmen are ready to die to defend his historical claim to Sabah.

The Sulu sultanate's power faded about a century ago but it has continued to insist on ultimate ownership of resource-rich Sabah, and still receives nominal Malaysian payments under a leasing deal struck by Western colonial powers.

The exact identities of the gunmen and their numbers have remained a mystery. Malaysian authorities have been criticised by the opposition for releasing inadequate information on the Sabah mayhem.

Supporters of the Filipino intruders took their campaign to cyberspace on Monday, manipulating Google listings to post a message backing the incursion, while some Philippine sites also were reportedly defaced by pro-Malaysia hackers.

Sabah has seen small raids by militants and criminals coming by boat from the Philippines before, but nothing on the current scale.
Follow Emirates 24|7 on Google News.